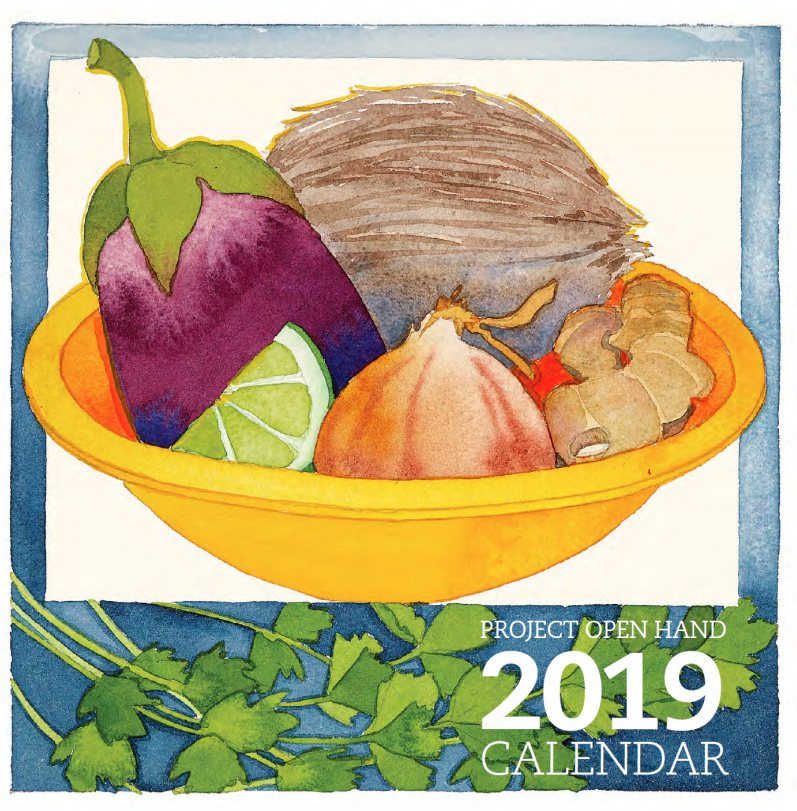 The 2019 Calendar - now available- is mailed to Project Open Hand donors who have contributed $.01, yes, that's one cent, or more since July 2016. 
The calendar is a small token of appreciation for supporters like you. Only with contributions made throughout the year, can we continue to provide nutritious medically-tailored meals to our sick and vulnerable neighbors in San Francisco and Oakland. This year's calendar once again features Celebration Days - honoring donors' loved ones with a heart and the name of the honoree - and Have a Heart Days - to commemorate donors' days of special meaning with a red heart. Each month also highlights awareness campaigns of interest to our community such as Hunger Action Month and National Cholesterol Education Month in September.
Project Open Hand Executive Chef Adrian Barrow, his team of cooks, and the registered dietitians and nutritionists on staff recommend, test, and taste our annual selection of client-approved favorites. These recipes offer a sample of the fresh, healthy ingredients used every day to prepare the 2,500+ meals tailored to meet the needs of our community of clients. We hope you will enjoy preparing them for your family, friends, and yourself! 
For over 20 years, San Francisco artist Gary Bukovnik has produced twelve, original watercolor works of art that highlight our monthly recipes. Gary says, "By doing this, I hope to be like one of the so many who have contributed to the well-being of Project Open Hand."
Project Open Hand is grateful to our friends like Gary who, in addition to monetary support, contribute through their talents, skills, and services.
If you would like to receive a 2019 Calendar for yourself, family member, or a friend, please Donate Online Today to receive your additional calendar (available while supplies last.)