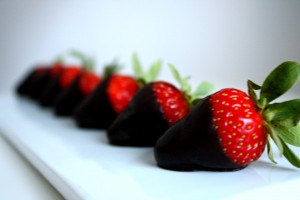 By Kristi Friesen, Project Open Hand Registered Dietitian
Dark chocolate has been shown to be a good source of heart protective antioxidants, known as flavanols. Flavanols are often limited or absent in milk and white chocolate. Raw unprocessed cocoa is a naturally very rich source of flavanols, which may confer several heart healthy benefits. Research supports the role of flavanols in lowering blood pressure and improving blood flow to the brain and heart. Unfortunately, most methods of processing cocoa remove many of these antioxidants. Below are a few things you should look for when choosing to buy chocolate.
SHOP FOR NON-ALKALIZED DARK CHOCOLATE.
Since flavanols are bitter, they are often removed during the manufacturing process through alkalization. Watch out for the phrase "processed with alkali" or the term "Dutch Cocoa" which is another term for alkalized chocolate. Nestle, Hershey's, Godiva, Ghirardelli and Dove's often alkalize their dark chocolate. Review the ingredient list to ensure it contains the maximum amount of heart healthy flavanols.
CHOOSE DARK CHOCOLATE CONTAINING 70% COCOA OR HIGHER.
The higher the cocoa content, the more antioxidants the chocolate will contain (if it's non-alkalized). In addition to heart benefits, the cocoa flavanols may even reverse age-related memory decline in older adults.
ENJOY ONLY THE RECCOMENDED AMOUNT.
Chocolate is still a significant source of calories and fat, which may displace other important nutrients if consumed in excess. When enjoying chocolate, aim for one to two squares (2 oz. total) per indulgent period or a total of seven squares (7 oz total) over a week time.
OTHER FLAVANOL RICH FOOD SOURCES
According to the USDA, here are the top seven sources rich in the heart protective flavanols. Consume at least one serving per day for heart protective benefits.
FLAVANOL RICH BEVERAGES/FOODS
SERVING SIZE
BLACK TEA, BREWED
(CAFFEINATED AND DECAFFEINATED)
1 CUP (8 OZ)
RAW WHOLE APPLE WITH SKINS
1 WHOLE APPLE
RAW PEARS
1 WHOLE PEAR
RAW PEACHES
1 WHOLE PEACH
RAW BLUEBERRIES
1 CUP (8 OZ)
RAW BLACKBERRIES
1 CUP (8 OZ)
RAW BANANAS
1 MEDIUM SIZED BANANA
As you venture through the month of love and beyond, show kindness to your heart by consuming a variety of flavanol rich foods each day and moderate amounts of non-alkalized dark chocolate. You can find a friend and many of the USDA suggested flavanol rich foods at a Project Open Hand senior site around town. See our full list of sites at www.openhand.org/seniors.
Every day, Project Open Hand provides 2,500 nutritious meals with love to seniors and critically ill neighbors. Donate now to help us continue to nourish our community.