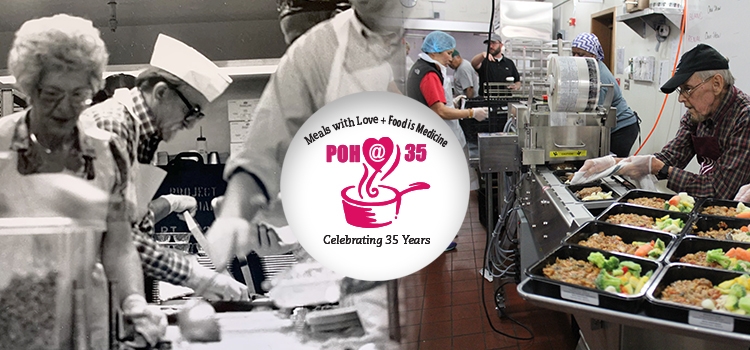 Celebrate 35 years of providing Meals with Love and Food is Medicine.
In 1985, Ruth Brinker, in the early days of the AIDS epidemic, saw a friend suffering from malnutrition.Ruth knew what needed to be done. She and other friends fed her neighbors.Meals with Love.
Thirty five years later, Ruth's  legacy continues to grow! Project Open Hand improves health outcomes with medically tailored nutrition. From HIV/AIDS and diabetes to COPD and heart disease, our meals are proof that Ruth had it right all along. Food is Medicine.
[email protected] Blog Posts - Read up on the latest blog about all-things related to our 35th Anniversary.
05/11/20 State Assemblymember David Chiu Visits POH, by Marketing and Communications Officer Marcus Tolero
05/01/20 A Slight Change to the Celebration, by Chief Executive Officer Paul Hepfer
Did You Know? - Follow us on Facebook, Instagram, and Twitter to find out about 35 facts you might not have known about Project Open Hand that will be posted throughout the rest of the year.
Get Social with Us! -  Have a POH story or memory you want to share with us. Tag us in your social post @projectopenhand and use the hashtag #POHat35. We can't wait to hear your stories!
Events -  COVID-19 has changed some of our event plans, but it doesn't mean we won't celebrate. Visit our events page for upcoming events.