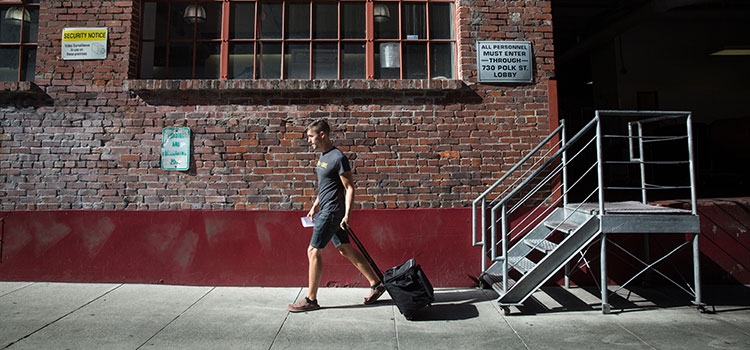 "I'm healthy and I feel like this this is a place where i can really contribute. People need to eat, especially in times of crisis." - Liz, San Francisco
Volunteers – we need your help!
Project Open Hand is seeking volunteers that want to contribute to their community by helping prepare meals for some of the area's most vulnerable residents. Volunteers at 730 Polk Street help prepare, package and deliver meals with love, 365 days a year.
Specific needs fluctuate and are currently limited due to COVID-19 so please use our Inquiry Form to contact Volunteer Services for more details.
Weekly volunteer opportunities:
· Kitchen: Help us with meal assembly, packaging and other general meal preparation. Learn more.
· Grocery Center: Help sort and pack food in our warehouse, or help provide clients with their weekly groceries. Learn more.
· Delivery: Help deliver meals with love. Deliveries can be done alone or in pairs, walking or by car. On-call positions are also available. Learn more.
· Special Events: Lend a hand at our fundraising events, including food festivals, concerts and fashion shows. Learn more.
· Administrative Support: Help with data entry, answering phones and other office support. Learn more.
If you are interested in scheduling a weekly volunteer shift:
· Click here to complete our Inquiry Form.
· For safety reasons, you must be at least 15 years old to volunteer.
· Please be ready to make a 3-month commitment to a weekly shift (or 40 hours per semester for students). This will help ensure that the same individuals are volunteering together each week.
· Please be prepared to follow social distancing guidelines, wear a mask, and complete a COVID-19 Acknowledgement and Screening Form.
If you are not able to commit to a weekly shift or want to try a drop-in shift first, please sign up for one of our urgent-need Hot Spot shifts.
Important Update 1/14/21
Check your health prior to arriving to your scheduled volunteer shift. If you feel sick, have tested positive for COVID-19 within the last 10 days, or had "Close Contact" with someone who was diagnosed with COVID-19, you must stay home.
If you had one or more COVID-related symptoms today or within the past 24 hours, which is new or not explained by another condition you must get tested before returning to volunteer at POH. Contact your healthcare provider or visit sf.gov/citytestsf for San Francisco or covid-19.acgov.org/testing.page for Alameda to schedule a test.
Practice proper social distancing (maintain 6 feet of separation from others) and wear a mask or face covering at all times.
Frequently wash your hands with soap and water for at least 20 seconds or using hand sanitizer when a wash station is not available.
× Cover your coughs and sneezes with a tissue or fabric or, if not possible, into the sleeve or elbow (but not into hands).