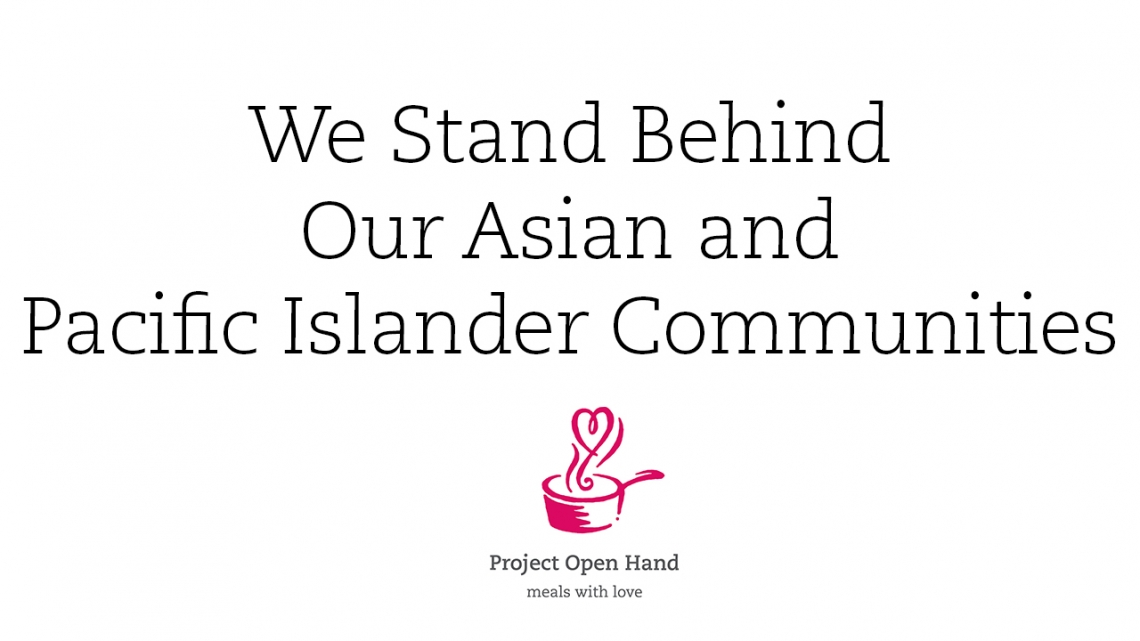 We at Project Open Hand were shocked and saddened by the killings in Georgia of 8 people, which included 6 Asian women in massage spas in the Atlanta area.  While it is not known clearly, the motives of the perpetrator, we at POH are concerned about the safety and security of the communities we serve and our diverse staff. 
"In the past year, we have seen an escalation of violence and other incidents against Asian American communities."  There have been thousands of documented hate incidents nationwide and hundreds in the Bay Area. We understand that even family members of our staff have experienced hate incidents.  While we should not make any assumptions about the reasons behind these recent incidents — whether racially motivated or not — they have profound impacts on our Asian communities across the country and internationally. Our elderly community members, along with their families, are fearful of being in public alone, simply going for a walk, and living their daily lives.  
We recognize that violence affects all of us and all of our communities. We must invest in long-term community-centered solutions that create spaces for cross-racial healing that address underlying causes and create ways for all to thrive. We believe that our strength is in unity, not division, and that our histories and our futures are intertwined. That is why we are committed to working with Black, Indigenous, Latinx, Asian and Pacific Islander communities for long-term shared vision and solutions to stop the violence in all our communities. 
Here are a few steps you can follow if you are experiencing or witnessing a hate crime (courtesy of Stop AAPI (Asian American and Pacific Islander) Hate)
5 Things to Consider when Experiencing Hate
Safety First: Trust your instincts and assess your surroundings. If you feel unsafe and you are able to, leave the area.
Stay Calm: Take a deep breath, limit eye-contact, and maintain neutral body language.
Speak Out (If you can do so safely): In a calm and firm voice establish physical boundaries, and denounce their behavior and comments.
Seek Immediate Support: Ask bystanders for support or intervention.
Seek Emotional Support: Once you feel safe, take time to recover and reach out to someone to talk about what happened. Remember this is not your fault, and you are not alone.
5 Ways to Help If You are Witnessing Hate
Take Action: Approach the targeted person, introduce yourself, and offer support.
Actively Listen: Ask before taking any actions and respect the targeted person''s wishes. Monitor the situation if needed.
Ignore Attacker: Using your discretion, attempt to calm the situation by using your voice, body language, or distractions.
Accompany: If the situation escalates, invite the targeted person to join you in leaving.
Offer Emotional Support: Help the targeted person by asking how they're feeling. Assist them in figuring out what they want to do next.
We join Stop AAPI (Asian American and Pacific Islander) Hate and other organizations in their efforts to stop hate crimes against the AAPI community.