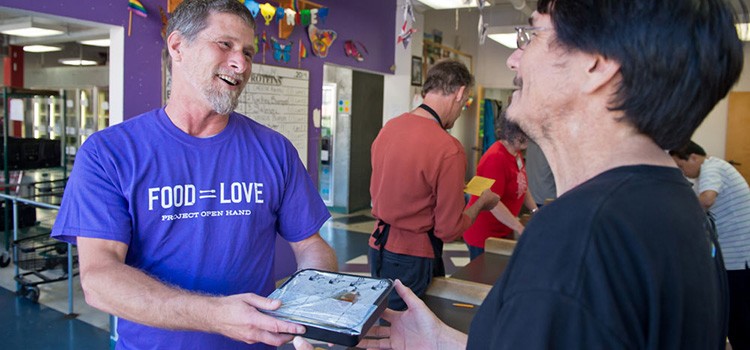 Project Open Hand's Wellness Programs focus on serving people who are sick and need nutritious food to support their medical treatment. We believe that our nutritious food is medicine. For people fighting illness, good nutrition can help them heal, get stronger and lead healthier lives.
Meals: We provide nutritious meals to people living with critical illness. Meals are available for pick up. For clients who are homebound, we offer home-delivered meals. View our menu.
Groceries: For clients and caregivers who are able to prepare meals, we offer healthy groceries that can be picked up once a week.
Nutrition counseling and education: All clients receive a nutrition and wellness assessment from our Registered Dietitians when starting service. Our dietitians are also available for regular check-ins and advice.
Click to visit our "How to Apply" page and find out more about whether you or a loved one is eligible for services. Download our Wellness Programs Application Form.
Click here for Locations, Hours, Directions.
If you have questions, please contact the Client Services Department:
San Francisco – (800) 551-6325 or 415-447-2326
Alameda County – (510) 622-0221