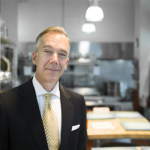 Mark Ryle, LCSW
Chief Executive Officer
Mark Ryle is an astute businessman with the soul of a social worker. His globe-trotting, high-pressure years in corporate finance – juxtaposed with his heart-stringing-and-boot-strap-pulling together of the nonprofit vision and mission as current CEO of Project Open Hand — reinforces a career foundation as a skilled and results-driven executive. Mark's devotion to serving the critically ill began while a University of Texas student in 1985, when his best friend was diagnosed as HIV-positive. Although the illness was new and frightening, a commitment to helping the vulnerable was familiar. The Abilene-born Texan was instilled with an awareness to always think of others first. After 20-years of success in the corporate finance world, Mark returned to the University of Chicago to earn his Masters in Social Work and focused on community organizing and gang intervention. He spent two years as a director of Fundación Huesped in Buenos Aires Argentina, building a food program for youth living on the streets of this massive city. Moving to San Francisco in 2009, Mark worked as a therapist with San Francisco's most vulnerable children and their families, In 2013, he began at Project Open Hand, where his contributions range from delivering meals with love to clients to leading the historic institution's new strategic direction.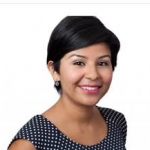 Ana Ayala
Vice President of Programs
San Fernando Valley native, Ana Ayala has joined the Project Open Hand team as Vice President of Programs after ten years living in San Francisco and working at places including AIDS Walk San Francisco and Catholic Charities, where she held roles ranging from administrative to events, development, and fundraising. For the past five years, Ana worked in programs at Catholic Charities. She speaks fondly of her role in Star Community Home -- a shelter for women and children, which Ana helped implement within a three-week timespan. The project was intended to run for 18 months, but was so successful that it is still active today.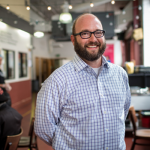 Andy Prochaska
Vice President of People Operations
With over ten years of progressive HR experience, Andy joined Project Open Hand in July of 2016 as Vice President of Human Resources. An adept communicator and strategist his work in a variety of sectors including healthcare, bio-tech, contingent staffing and non-profit have all shaped the professional he is today. Utilizing his background in education, his focus has and continues to be the development, engagement, and alignment of people operations with organizational mission. A commitment to serving and uplifting our most vulnerable neighbors drives his passion for Project Open Hand as he works behind the scenes to ensure we deliver meals with love to our community. A proud father, Andy resides in Pacifica with his family.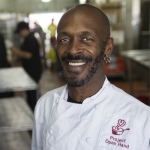 Adrian Barrow
Executive Chef
Executive Chef Adrian Barrow's life journey is as extraordinary as his food.
Born in Barbados, Adrian moved to the "Big Apple" as a teenager, and enrolled in the culinary program at New York City College of Tech in Brooklyn. After his studies, he gained experience at many well-known, upscale New York restaurants including Union Square Café, Hudson River Club, and most notably, Blue Water Grill, where he was a sous-chef for five years. Adrian then made the cross-country trip to begin his west coast career at Aqua, a top rated Michelin restaurant. It was at that point that Adrian began to feel like something was missing; that perhaps he had a special culinary calling – a calling where he could help others in need. Nine years ago Adrian began as Special Diets chef at Project Open Hand; he has undergone a variety of role changes throughout the years, transitioning from Catering Chef, to Sous-Chef, and now to Executive Chef.
Jonathan Jump
Vice President of Operations
Jonathan Jump moved to San Francisco in 2000 and led fundraising operations for the San Francisco AIDS Foundation and AIDS/LifeCycle for twelve years before taking over Shared Services at Room to Read, an international literacy and girls education non-profit based in San Francisco and serving children throughout Asia and Africa. With more than two decades of experience intersecting strategic planning, operations and customer service, Jonathan is passionate about implementing time saving and innovative tools that allow staff to work smarter in a resource challenged environment and advocating for solutions that integrate the organization's mission in meaningful ways. "I want to be the first person that others think of when they need a problem solved. Put simply, I love helping the people that help people."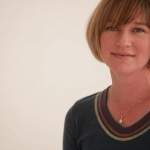 Kim Madsen, MEd, RD
Director of Nutrition Services
An east coast native, Kim Madsen received her BS in Dietetics from University of Vermont and her Masters in Nutrition Education from Framingham State College in MA. Her passion for wilderness adventure led her to northern California in 1991. As a Registered Dietitian, Kim honed her clinical nutrition and consulting skills in long- term care and rehabilitation facilities in San Francisco for 7 years. Then, 18 years ago, she found her dream job at Project Open Hand. Surrounded by compassionate staff and volunteers, and inspirational clients with fascinating stories,. During her tenure at Project Open Hand Kim has been the program dietitian for the Senior Meal Program, the agency dietitian for all programs and now is the Director of Nutrition Services where she continues take great pride in working for an agency that provides quality medically tailored meals and nutrition education to the sick and the elderly in San Francisco and Alameda Counties.