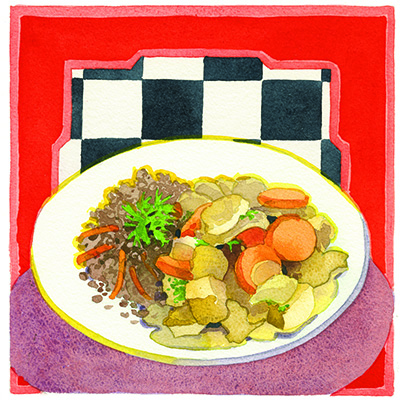 Ingredients:
2 tbsp. oil
1 ¾ lbs. Pork, stew meat, Diced ½ x ½
1 qt. water
2 tbsp. flour
1 cup coffee brewed
3 tbsp. balsamic vinegar
8 oz. potatoes, ½" diced
8 oz. onions, ½" diced
4 oz. carrots, ¼" diced
4 oz. mushrooms, sliced.
1 ½" tsp. caraways seeds, ground
1 Bay Leaf, dried, crumbled
1 tsp. black pepper, ground
2 tsp. Coriander, ground
2 tsp. Kosher Salt
3 oz. Parsley, fresh, chopped
Directions:
Heat oil in a medium-sized stock pot.
Sear the diced pork evenly for 5 minutes. Add 1 qt. water, cover and allow pork to cook. Simmer till all liquid has evaporated.
Dust pork with flour and stir to create a roux over the meat. Add the brewed coffee, stirring well so there are no lumps.
Add the potatoes, carrots, onions, balsamic vinegar, bay leaf and spices to the stew.
Slowly simmer till the vegetables and pork stew meat are all tender. For about 15 minutes.
At this point add the mushrooms and parsley and stir in well. Heat thoroughly for 5 minutes.
We occasionally serve this stew over Brown Rice Pilaf to our clients. However, I especially like it over White Rice with black Eyed Peas.
Enjoy.
Calories-212 kcal Fat-8.6 gm Chol-63 mg
Carbs-10.8 gm Sodium-449 mg
Protein-22.2 gm Calcium-33mg