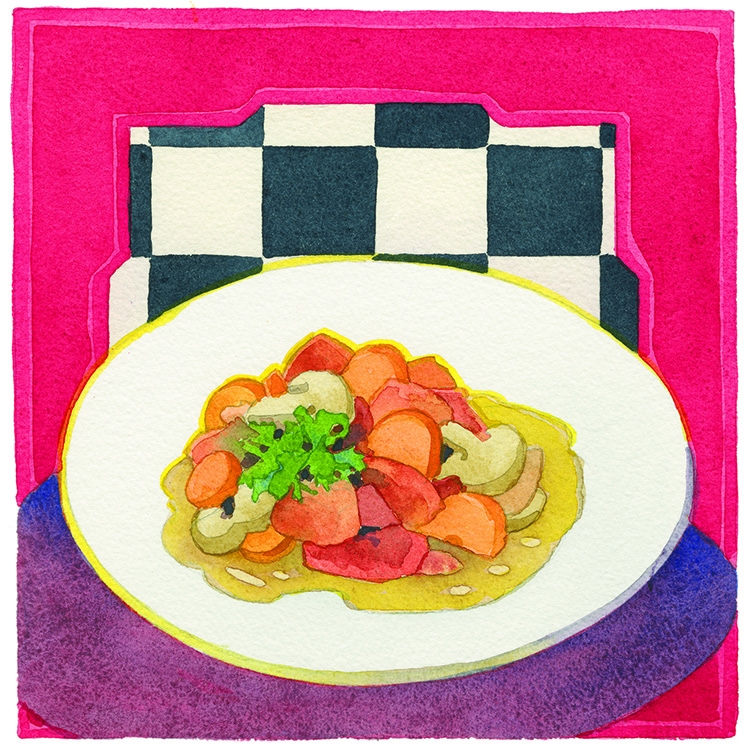 Beef Bourguignon
SERVES 6- 8 PP
Ingredients:
3 Tbsp. oil
1 lb. Beef – stew meat, diced ½ x ½
2 cups water
3 tbsp. flour
2 cups tomato paste
1 cup red wine
1 tbsp.  Dijon Mustard
2 cloves garlic, chopped
8 oz. can diced tomatoes
6oz potatoes, diced ½ x ½
8 oz. onions Diced ½ "
3 oz. carrots, diced ½"
3 oz. celery, diced ½"
3 oz. mushrooms, sliced
1 sprig fresh thyme
1 bay leaf
1 tbsp.  Salt and Pepper mixed
Directions:
Heat oil in a med, heavy pot till hot and   sear meat for a few minutes over med heat.
Add 2 cups water and allow meat to cook in these juices for about 10 minutes until all liquid has evaporated.
Add flour, stirring to coat meat. Add tomato paste and stir into meat as well.
Deglaze with red wine and Add mustard and garlic and stir in.
Add diced tomatoes, potatoes, onions, carrots, celery and spices.
Stir well. Lower heat and continue cooking for another 15 minutes till all vegetables are tender as well.
Add mushrooms and cook for another 5 minutes. Taste and adjust seasoning if needed.
Goes well, when served  over   Egg Noodles and Roasted Broccoli.