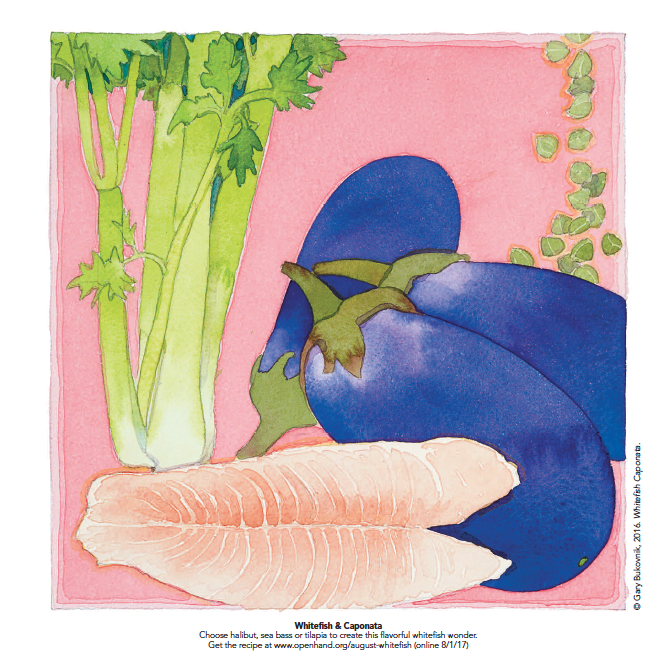 Prep time: 30 minutes
Cooking time: 30-40 minutes
INGREDIENTS
 
2 fish fillets (halibut, cod, sea bass)
1 tbsp olive oil
Sea salt
Ground black pepper
For the Caponata
 1 small onion, chopped
2 celery stalks, including leaves, chopped
2 tbsp. olive oil
1 Eggplant, cut into 1 in. chunks
1/2 tbsp. salted capers, soaked in water for 10 minutes, then drained
10 black olives, stoned
1/2 tbsp. sugar
1/2 tbsp. white wine vinegar
25g tomato paste
Salt and pepper
Heat oil in large frying pan, add the eggplant chunks and fry until brown and tender. Add the onion, celery and all remaining ingredients. Stir well, cover and cook for 15 minutes, removing the lid of the pan towards the end of cooking. (Should the sauce require extra moisture, add 1-2 tbsp. water while cooking.) Season with salt and pepper.
Leave the Caponata to cool. (Or let sit overnight to allow flavors to develop.)
Heat tbsp. olive oil in pan and cook fish filets, seasoned with the sea salt and black pepper;  if using fish with skin on, start skin side down. Fry over a moderate heat for 3-5 minutes, turning once.
Assemble the dish by placing a portion of the Caponata on a plate and place the fillet on top.
Drizzle a small amount of extra virgin olive oil to add richness.