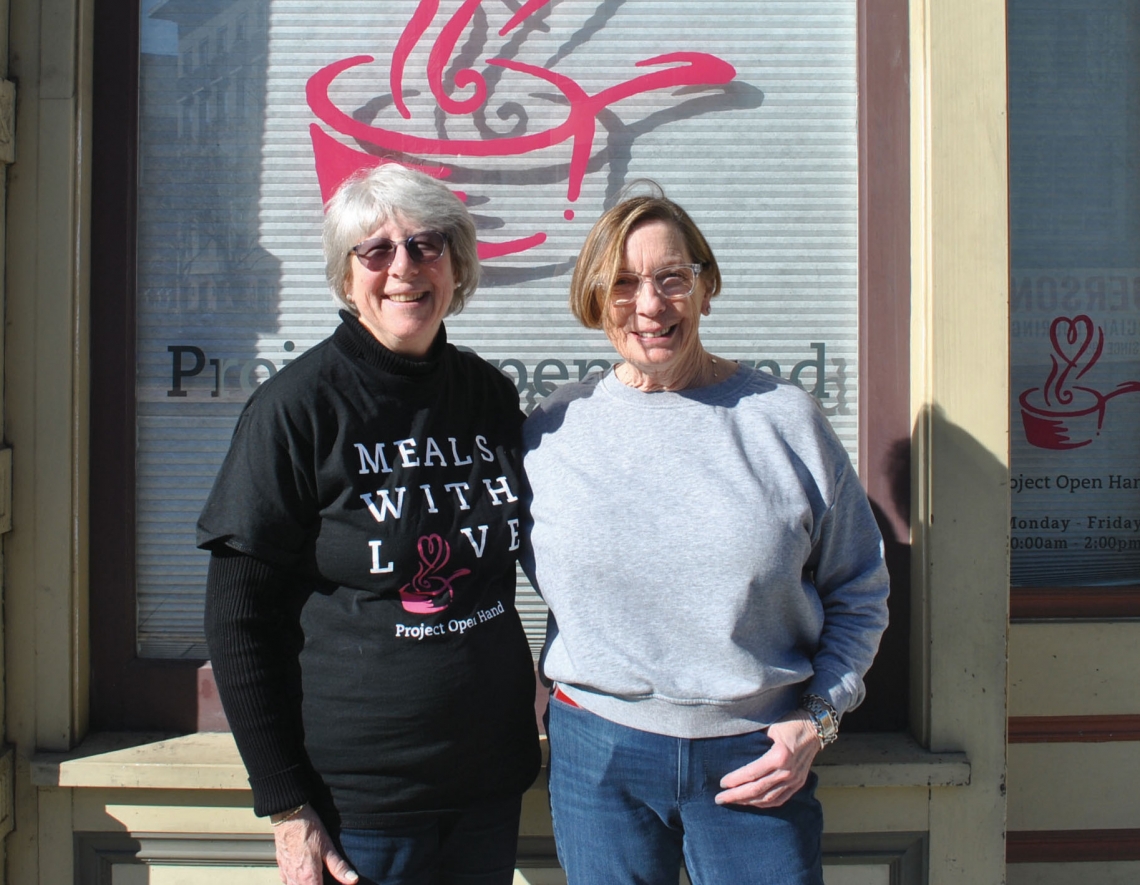 Nestled in between a pizza joint and a beauty parlor in Uptown Oakland, 1921 San Pablo Avenue is Project Open Hand's East Bay grocery center that serves approximately 900 Project Open Hand clients — and volunteers Ann Hasse and Cheryl Wood are prepping for the Friday-morning rush.  
East Bay residents Ann and Cheryl have volunteered at the grocery center in Oakland every Friday morning for the past five years. Their duties include welcoming and checking in clients, assisting with client questions, restocking inventory, and gathering groceries for clients. 
Although Project Open Hand's grocery centers in San Francisco and Oakland provide healthy groceries to more than 400 people a day, Friday mornings at the Oakland site are met with a sense of calm because of the dedicated duo.  
"Cheryl and I are a very well-oiled team," Ann said. "We come from professional backgrounds where we had to learn how to be organized and efficient. We both realized that we had to work together."   Like any team that has spent a significant amount of time together, Ann and Cheryl have built a special bond over the years at Project Open Hand — friendship.  
"It started right here. She (Ann) started about two weeks ahead of me. We did not know each other before this — she is absolutely incredible," Wood said. "Some weeks we go to lunch together. When I was out with a knee injury, she came over. We care about each other." 
The sense of caring is also the reason why both volunteered at Project Open Hand. Ann, originally from Santa Barbara, is a retired lawyer with nearly 40 years' experience. She first volunteered at Project Open Hand about 25 years ago when her then employer, American President Lines, held a volunteer day at a previous grocery center location in the East Bay, an experience she loved. Although her work schedule did not allow time for her to volunteer, she contributed financially with donations throughout the years and eventually began volunteering at Project Open Hand during her retirement.  
Cheryl, who grew up in Western Massachusetts and has 38 years' experience in retail management, first volunteered eight years ago at the San Francisco headquarters. Like Ann, she planned on spending her retirement by helping those in need. She found Project Open Hand because the mission of providing nutritious meals to the sick and vulnerable resonated with her.  
Ann and Cheryl have not only built a special bond with each other, but also with the clients they serve— some continue (fighting critical illnesses) to this day and others have ended due to untimely passing. Regardless, helping the clients and the sense of fulfillment keeps the two coming back to volunteer every Friday morning.  
"It's more than a fleeting relationship. The sense of getting to know people, and in general, they (clients) are so appreciative of the food and what we do. It's incredibly rewarding. I'm making a difference in somebody's life," Ann said.  
"You have to embrace it. You have to love it. I get excited getting up on Friday mornings. It gives one a real sense of purpose and community," Cheryl said.   
The month of April marks Volunteer Appreciation Month. Although Ann and Cheryl play vital roles in women's health and volunteerism at Project Open Hand, they both acknowledge that supporting and promoting our cause is a year-round pursuit. 
Ann and Cheryl are just two of our more than 100 volunteers needed every day at Project Open Hand. Find out how you can help by visiting: www.openhand.org/volunteer.