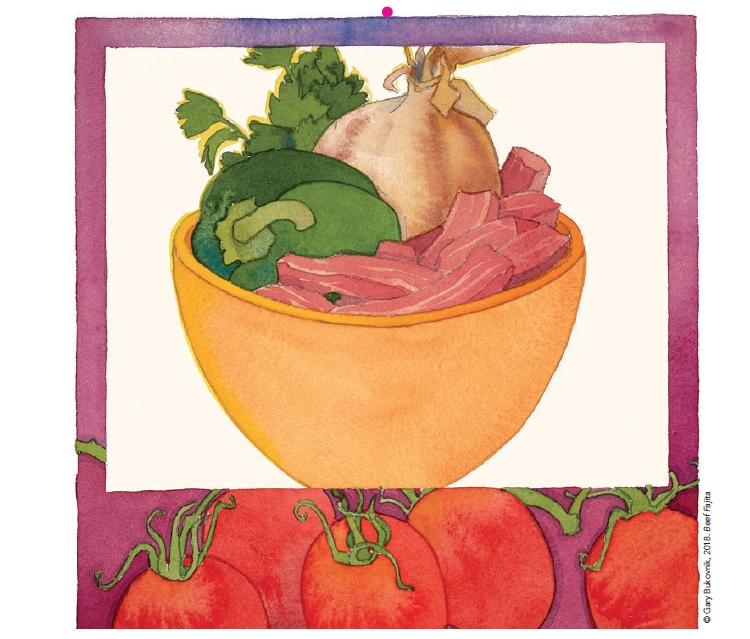 2 Tbsp. oil-blended 
1.5 Beef stew meat, diced ½ x ½
2 cups water
1 tbsp. garlic chopped
1 tbsp paprika
2 tsp Oregano, dried
1 tbsp chili powder
2 tsp Black pepper ground
2 tsp cumin ground
2 oz. red onion, julienne thin
2 oz. red pepper, julienne
2 oz. green pepper, julienne
2 oz. cilantro chopped
Heat oil in a large skillet with a tight lid.
Add diced beef and sear for a few minutes then add water, cover and cook meat over medium heat. Cook until meat is tender to the touch.
If moisture evaporates too quickly, add more liquid in small amounts. Allow some moisture to remain in bottom of pan.
When meat is tender,  Add garlic and spices to meat and cook uncovered over low heat for a few minutes, stirring occasionally.
Add onions and stir into meat.
Add peppers and sauté. Cooking with the meat and onions for a few minutes. 
Remove from heat, taste and add chopped Cilantro.
Serve over Spanish rice or mash potatoes.