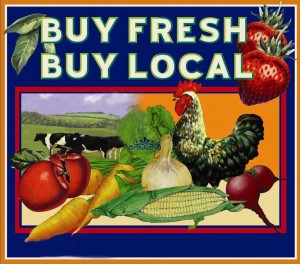 Recently there has been a lot of buzz about eating locally grown foods, but why? Eating locally is oftentimes less convenient and more expensive than buying mass produced foods, yet the benefits that these foods provide for your body and the environment may make it worthwhile.
Why locally grown food is better for your health: According to the Center for a New American Dream (CNAD), small farms are less aggressive than large factory farms about using chemicals on their plants. Even the non-organic small farms are less likely to have dangerous pesticides and herbicides.
Why locally grown food tastes better: Farmers that sell directly to local consumers select and harvest crops based on when they are at their peak quality of freshness, nutrition, and taste. In contrast, many large corporations give priority to packing, shipping and shelf life instead.
Why locally grown food is better for the environment: Small farms are more likely to grow a wide variety of crops. Variation protects biodiversity and preserves a larger agricultural gene pool, which is important for ensuring long-term food security. In addition, buying local foods eliminates the carbon footprint left behind when food is transported great distances.
Why eating locally helps farmers: On average farmers only receive 20 cents of each food dollar spent because of the cost of transportation, processing, packaging, and marketing. When you buy locally, the farmer receives the direct profit of the money spent.
Click here for a list of San Francisco Farmers Markets you can visit.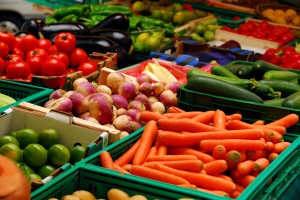 Foods currently in season: Apples, Apricots, Asian Pears, Asparagus, Avocados, Beets, Blackberries, Blueberries, Broccoli, Cabbage, Carrots, Cauliflower, Celery, Cherries, Cucumbers, Eggplant, Fennel, Grapefruit, Grapes, Halibut, Pacific, Mushrooms, Nectarines, Okra, Onions, Oranges, Peaches, Pears, Peas, Pistachios, Pollock (Alaskan), Potatoes, Radishes, Raspberries, Rhubarb, Scallions, Snap Peas, Spinach, Squash, Strawberries, Tomatoes, Turnips.
Test out your locally grown food with a fun and refreshing summer recipe that includes some wonderful in season fruits!
Ginger Yogurt with Berries and Crunchy Caramel
Ingredients:
6 (7-ounce) containers plain Greek yogurt
1 (4-ounce) package crystallized ginger, minced (about 3/4 cup)
1 small container raspberries
1 small container blackberries
1 small container blueberries
1 (8-ounce) container strawberries, hulled, halved (quartered if large)
1 cup sugar
1/4 cup water
Directions:
Berries and yogurt
Mix yogurt and ginger in medium bowl; spread in large shallow serving bowl. Cover yogurt with berries. DO AHEAD Can be made 4 hours ahead; cover and chill.
Caramel
Stir sugar and water in heavy medium saucepan over low heat until sugar dissolves. Increase heat; boil without stirring until mixture is dark caramel color, swirling pan occasionally, about 7 minutes. Immediately pour hot caramel over berries, avoiding pouring down inner sides of bowl. Let stand until caramel hardens, about 5 minutes, and serve.