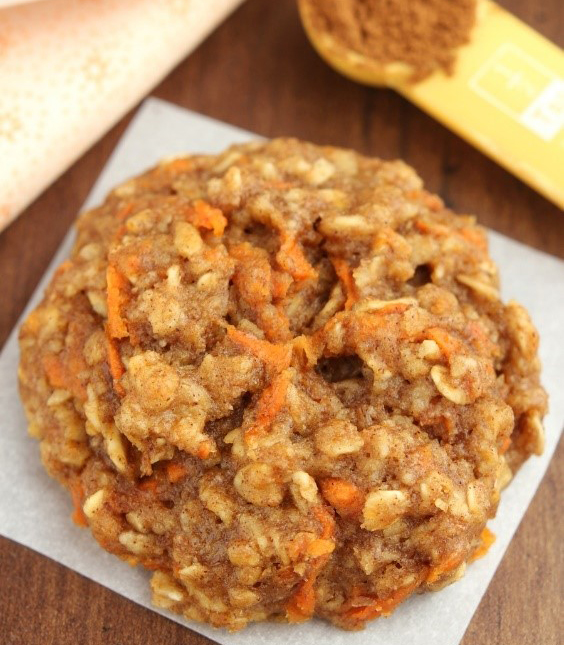 INGREDIENTS:
(Makes 14 cookies)
1 cup instant oats (leveled like flour)*
¾ cup whole wheat or all-purpose flour*
1 ½ teaspoons baking powder
1 ½ teaspoons ground cinnamon
1/8 teaspoon salt
2 tablespoons unsalted butter or margarine (melted and cooled slightly)
1 large egg – room temperature
1 teaspoon vanilla extra
½ cup granulated sugar
2 tablespoons unsweetened applesauce
¾ cup shredded carrot
DIRECTIONS:
In a medium bowl, whisk together oats, flour, baking powder, cinnamon, and salt. In a separate bowl whisk together melted butter, egg, and vanilla. Stir in sugar and applesauce until incorporated.
Add flour mixture to wet mixture, stirring until just incorporated. Fold in carrots. Chill dough for at least 30 minutes. (If cooling longer, cover with plastic wrap that is directly touching the dough so it does not dry out.)
Preheat oven to 325ºF. Line baking sheet with parchment paper.
Drop chilled cookie dough into 14 rounded scoops onto making sheet. (If dough was chilled more than 1 ½ hours flatten the scoops slightly).
Baked at 325ºF for 12-15 minutes. Cool on baking sheet for 15 minutes before removing.

*Note: It is important to measure oats and flour correctly, using the scoop-and-level method. Do not scoop directly from container. Using too many oats will dry out cookies.