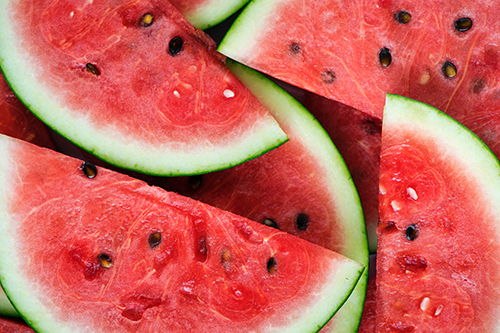 Watermelon is a good source of Lycopene, a powerful antioxidant found in red and pink fruits!  Diets rich in the antioxidant lycopene may help prevent the development of some types of cancer, promote heart health.  Lycopene may help reduce feelings of pain and have beneficial effects on your eyes, brain and bones, and contribute to stronger bones.
Watermelon Salad
Ingredients (Makes 6-10 servings)
1 medium size watermelon

2 lemons, zest and juiced

1/2 cup mint leaves, chopped

1 cup crumbled feta cheese or blue cheese

1 red onion, julienned
Directions
Dice watermelon into bite sized pieces, remove any black seeds.
Mix mint leaves, feta (or blue) cheese, and red onion in with the watermelon in a large bowl.
Pour lemon juice over the salad.
Enjoy!