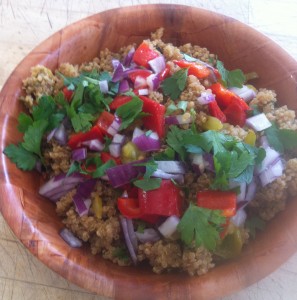 Quinoa Chaufa combines the Chinese technique of stir frying with the Peruvian ingredient quinoa. Chaufas developed as a result of the influx of Chinese immigrants in Peru.
Serves 4
Ingredients:
2 cups Quinoa
4 cups liquid (water, vegetable stock, or chicken stock)
1 cup small dice (1/4") green bell pepper
1 cup small dice (1/4") carrots
1 cup sliced mushrooms
1 bunch chopped green onions
1 teaspoon minced garlic
1 teaspoon minced ginger
2 tablespoons soy sauce
2 tablespoons sesame oil
Instructions
To cook the Quinoa, bring the 4 cups of stock to a boil in a medium sized pot.
Add the Quinoa, and turn the heat down to a simmer.
Cover the pot, and cook until the liquid is absorbed, about 10 minutes.
Fluff the Quinoa with a fork, cover, and let sit for 5-10 minutes.
Heat a sauté pan over medium heat for 1 minute and add the sesame oil.
Add the garlic and ginger and sauté for 1 minute. Do not allow to brown. Turn heat down if necessary.
Add the carrots and sauté for 1 minute.
Then add the mushrooms and bell pepper.
When the vegetables are cooked to your liking, add the Quinoa to the sauté pan.
Add the soy sauce and stir everything together.
Garnish with the green onion.
Note from Chef Nikki: Technically a seed (not a grain), Quinoa is native to the South American Andes region. It is prepared and eaten like a grain, and because of its significant protein and fat content, Quinoa overcomes the shortcomings of cereal grains and is considered a complete protein. Add some fresh veggies to Quinoa, and you get a nutrient dense meal packed with protein, healthy fat, vitamins and minerals. I like to eat Quinoa with a raw kale salad.