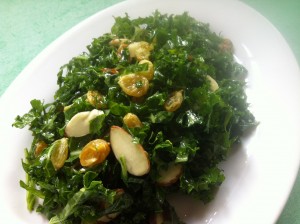 This is a very simple recipe for a delicious kale salad that I learned from a local raw foods chef. It was one of my staple menu items when I was a private chef for a Bay Area yoga retreat. Every year, the participants told me they loved it because it provided such an energy boost, yet was so light and easy to digest.
Kale is one of the most nutrient dense foods on the planet. One cup of raw kale contains more vitamin C than an orange. It's also extraordinarily high in Vitamin A and K, and is a significant source of plant-based calcium. To retain the nutritional integrity of this amazing plant, I prefer to eat it raw. Dino or Lacinato kale work great for this salad.
For tender, raw kale, the secret lies not only in massaging it, but also in how it is cut.  Please read the recipe to learn more!
Raw Kale Salad
Ingredients
1 bunch Kale, leaves removed from stems, and chiffonade (technique explained below)
¼ cup Golden Raisins, soaked in warm water for 15 minutes
¼ cup Pine Nuts (or sliced Almonds)
1 Tablespoon Lemon juice
1 Tablespoon Extra Virgin Olive Oil
Kosher Salt or Sea Salt, to taste
Black Pepper, to taste
To prepare:
Wash kale before preparing it! Strip the leaves off the stems.
To chiffonade the kale, start with one leaf and roll it up, from top to bottom, length wise. Once the leaf is rolled up, cut it into very thin strips, about 1/8 inch thick. It should look like confetti. We chiffonade the kale to help tenderize it.
Once you get comfortable with the chiffonade technique, you can roll up several leaves at once. Chiffonade the rest of the kale.
Put the kale in a mixing bowl or salad bowl. Add the olive oil, lemon juice, salt and pepper.
Massage the kale very well! Don't be shy. Use both hands to really massage it. Combined with the chiffonade cut, this will ensure an extremely tender kale salad.
Drain the water from the raisins and pat dry with a paper towel. Toss the raisins and the pine nuts into the salad.
Enjoy!
Want more healthy, delicious recipes like this?  Click here to subscribe to our monthly "What's Cooking?" e-newsletter to get our latest news, recipes, volunteer & events info delivered right to your inbox.