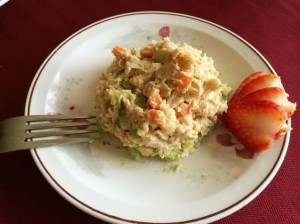 If you like chick peas, you will love this recipe by Kalyn Yang of our Young Professionals Council.
Ingredients:
1 can of chick peas, drained and rinsed
1/2 cup diced celery
1/2 cup diced carrots
1/4 cup sliced green onions
1/4 cup hummus of your choice
1 1/2 tablespoons Dijon mustard
Juice of 1 lemon
Salt, pepper, and garlic powder to taste
Directions:
Drain and rinse chickpeas, mash with a fork in a medium bowl.
Add all other ingredients! Make it creamier with more hummus.
Make a sandwich, make some appetizers, or just eat it with a fork!