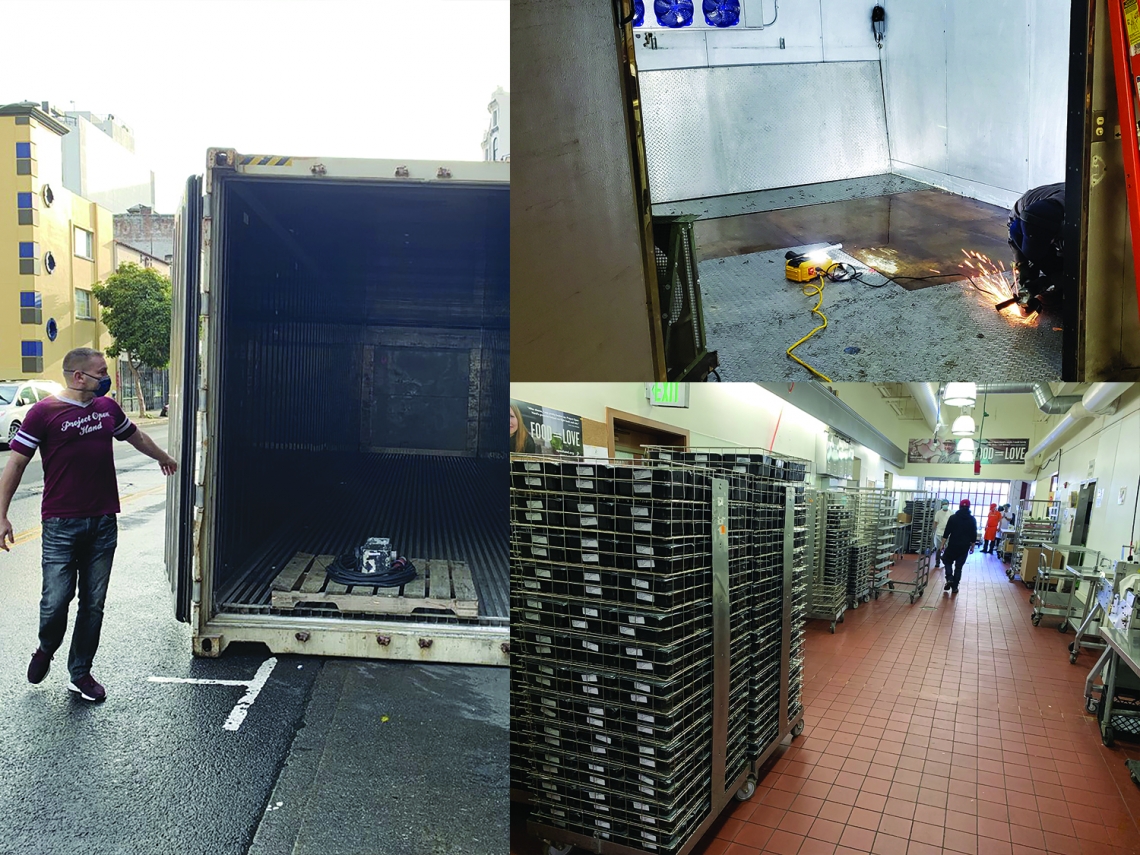 The San Francisco Department of Disability and Aging Services (DAS) supports many nonprofit organizations that provide a range of services to older adults, veterans, and people with disabilities.
For Project Open Hand(POH), its partnership with DAS, which began in 1998, is vitally important in providing nutritious meals to over 4,200 seniors and adults with disabilities in the city.
From the Community Nutrition Program (CNP) that serves meals at 16 community center locations to our mobile grocery center that travels to underserved communities to building maintenance and kitchen equipment upkeep, DAS has been an essential source of funding support for Project Open Hand.
But in early March of this year, the City of San Francisco and DAS demonstrated their ability to respond quickly. They stepped up their support to nonprofits like POH through this most challenging and unprecedented time – the COVID-19 pandemic.
When shelter-in-place orders went into effect on March 17, the impact was felt on many levels. Six CNP locations, which offer a communal setting for seniors and adults with disabilities, closed. The 125 daily volunteers POH depends on were reduced to 28. Clients, many who fall within the at- risk group, were forced to stay home.
But the demand for POH services increased as an essential food service provider.
This begged the question — how would POH meet the increased demand?
The answer: with help from the community in partnership with DAS.
"Long-standing support for organizations like POH starts with good communication between our staff. This allows us to be able to understand the issues impacting organizations and quickly provide guidance and support as needed. In the case of POH, this meant helping support big changes in food service operations to "to-go" services, and providing the financial support to implement these changes," said DAS Executive Director Shireen McSpadden.
To help POH pivot its operations quickly, DAS, who provided $2.5 million to POH in the last fiscal year, gave an additional $750,000 in one- time-only funding through the GIVE2SF Response and Recovery Fund, a special fund established by the City and County of San Francisco. Corporations, foundations and individuals gave to this $28.5 million fund through the end of July. (POH also directly received over $2M from generous donors during these months).
With the DAS funding, POH is building a $175,000, 16 x 30 foot walk-in freezer for additional storage capacity of more than 12,000 frozen medically tailored meals and a new 11x16 foot fridge for storing raw ingredients, produce, and dairy products.
Additionally, DAS is funding freezers for five CNP locations and the rental of a 40-foot freezer trailer that can store up to 20,000 meals. This additional capacity has allowed POH to increase meal production from 8,000 frozen medically tailored meals to 17,000 per week. DAS funds also supported the purchase of an additional delivery van and personal protective equipment for staff and volunteers at risk of COVID-19 while distributing meals to the community.
To put this in perspective, prior to COVID-19, the CNP program offered 6,000 meals total at its 16 locations and delivered 441 single meals per week to 63 clients.
When COVID-19 restrictions and guidelines began, DAS helped the CNP program adjust its model. Congregate meal settings switched to pick-up only and saw its number of 6,000 meals a week rise to over 9,000 by early June. To help alleviate the increased costs of shifting production to create more frozen meals, DAS also contributed an additional $3 reimbursement per meal for extra labor in producing and storing a frozen meal.
"Our ability to adjust our services from a senior congregate model to one that better met the needs of people most at risk for COVID-19 would have been significantly reduced without the quick action by DAS. They quickly approved
our plan to rapidly scale up our individually prepared meals and their funding provided us the ability to increase our capacity to stay ahead of the increase demand," said POH CEO Paul Hepfer.
POH Director of Operations Michael McCormick also noticed the positive impact on production.
"DAS did not hesitate. They jumped in right behind us and supported us. They gave us the ability to make the transitions necessary to continue to serve not only our existing clients, but to expand and serve even more clients," he said.
The Shelter in Place orders prevented regular food deliveries to Single Resident Occupancy (SRO) locations, and residents could not easily shop for their needs.
"When the SRO food deliveries stopped, POH and DAS quickly began working together on the matter together and started discussing solutions. Familiarity and trust between our two organizations meant that we knew what resources were available and each could quickly identify what was needed to design a solution," McSpadden said. "
778 Residents at 10 SROs who were in need of food during the beginning months of shelter in place, began receiving meals. From the end of April to the end of June, on average 2,123 meals were delivered every week to these locations. Although the number of weekly deliveries has now dropped to 580 meals due to the lifting of some COVID restrictions, the initial response helped many be food and nutrition secure during that critical time
The solutions DAS and POH designed were all made withone goal in mind – continue uninterrupted service to the elderly, sick, and the most vulnerable in our community!
Marilyn, a senior client who lives in an SRO and currently receives POH meals at the Curry Senior Center, said, "I can't cook at home because I live in an SRO. Having these meals is convenient, nutritious and healthy. I am maintaining my good health because I have these meals during this difficult time."
The partnership between DAS and POH started decades ago. Although both have worked together to address the needs of vulnerable populations, there's still a lot of work to be done during the COVID-19 pandemic and beyond.
"POH, as well as many community- based organizations, have played critical roles in the citywide coronavirus response efforts and have helped keep countless older adults and those with medical conditions by allowing them to shelter in place safely. DAS is grateful for our relationship with POH and all they do for the community throughout their multiple programs," McSpadden said.
None of the work POH does and continues to do can be done without the support from donors like you. Thank you! We need you to meet the continuing level of need.