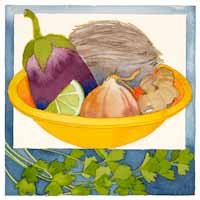 Eggplant and Seitan Curry (serves 6-8)
Prep time: 15 minutes 
Cook time: 30-40 minutes
Ingredients:
1 Eggplant (3/4" cubed)
1 pound Seitan (½" diced) (toss in 2 tbsp. olive oil)
1 cup E.V. Olive Oil
1 cup onion (1/2" diced)
1 cup carrots (1/2" diced)
1 cup potatoes (1/2" diced)
2 plum tomatoes (1/2" diced)
2 Tbsp. yellow curry powder
2 Tsp. salt & pepper mixed
1 clove garlic (chopped)
1 Tsp. coriander ground
2 Tsp. cumin ground
1/2 cup Peas
1/2 cup Parsley (chopped)
3 cups water
1 cup Coconut Milk
Instructions:
1. Place Seitan on baking tray and Roast at 350*F for 20 minutes. Set aside to cool.
2. In a medium pot, heat olive oil, add cubed eggplant and sear for two(2) minutes in the olive oil.
3. Add onions, carrots, potatoes, garlic and seasonings. Stirring slowly for a minute.
4. Add water and chopped tomatoes.
5. Cover and simmer on low heat for 20 minutes, until carrots and eggplant are tender.
6. Add peas and coconut milk and simmer for 2 to 5 minutes to allow coconut milk to thicken.
7. Stir in roasted seitan and parsley.
Project Open Hand would serve this vegetarian dish with Scallion Brown Rice or Scallion White Rice. This dish provides fiber and vitamin C.