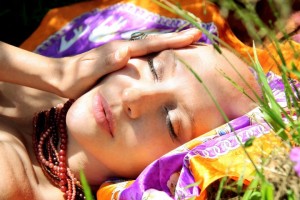 You don't know me, but I know you. You are helping me win my fight against breast cancer. By supporting Project Open Hand, you helped sustain and nourish me during the most challenging time in my life.
I was 29 years old and just a few months from completing my undergraduate degree at U.C. Berkeley, when I discovered a lump in my breast. Fearing the worst and knowing my health insurance would lapse when I finished school, I was reluctant to visit a doctor. Fortunately, my boyfriend insisted I go. In March 2011, I was diagnosed with Stage-3 breast cancer.
I began aggressive chemotherapy almost immediately, trying to beat the clock on my expiring health coverage. I was determined not to allow chemotherapy to deter me from completing my studies, and halfway through my chemotherapy I proudly accepted my diploma on stage. Within days of my final chemotherapy session, I underwent an eight-hour mastectomy and reconstructive surgery. A nurse advocate recommended Project Open Hand, as I was now unemployed and relying on food stamps.
I began visiting Project Open Hand in Oakland around the time that I started a daily radiation regime that required me to travel more than 30 miles each way from my house. Visitng the staff and volunteers at Project Open Hand every week was an important escape from my grueling radiation treatment.
I love to cook and was delighted to learn that I could get groceries once a week from the Project Open Hand Grocery Center . This would not only supplement my meager food stamp allowance, but more importantly, provided me with access to healthy, nutritious food that has been essential to my recovery.
The fresh fruits and veggies provided by Project Open Hand were bountiful. Salmon and chicken were a staple offered for breast cancer clients, as well as extra virgin olive oil. I'm so grateful for the amazing, nourishing food options that were made available to me.
The Grocery Center was a calming, positive place, away from the frenzy of hospitals. The treatments I underwent left me physically and mentally exhusted, but the POH grocery center had a simple list with all the wonderful options right there. I was always welcomed by name and was treated as a friend and guest. On my birthday, the staff gave me a small cake. During a Christmas breakfast, I received a handmade scarf from POH volunteers.
Life is awesome right now. I'm heathy, I'm working full time, I'm playing softball again and feeling stronger everyday. Project Open Hand gives true meaning to the words "comfort food." Thank you.
Project Open Hand would like to thank and recognize The Avon Foundation for Women for generously funding our nutrition services that support neighbors who are battling breast cancer.