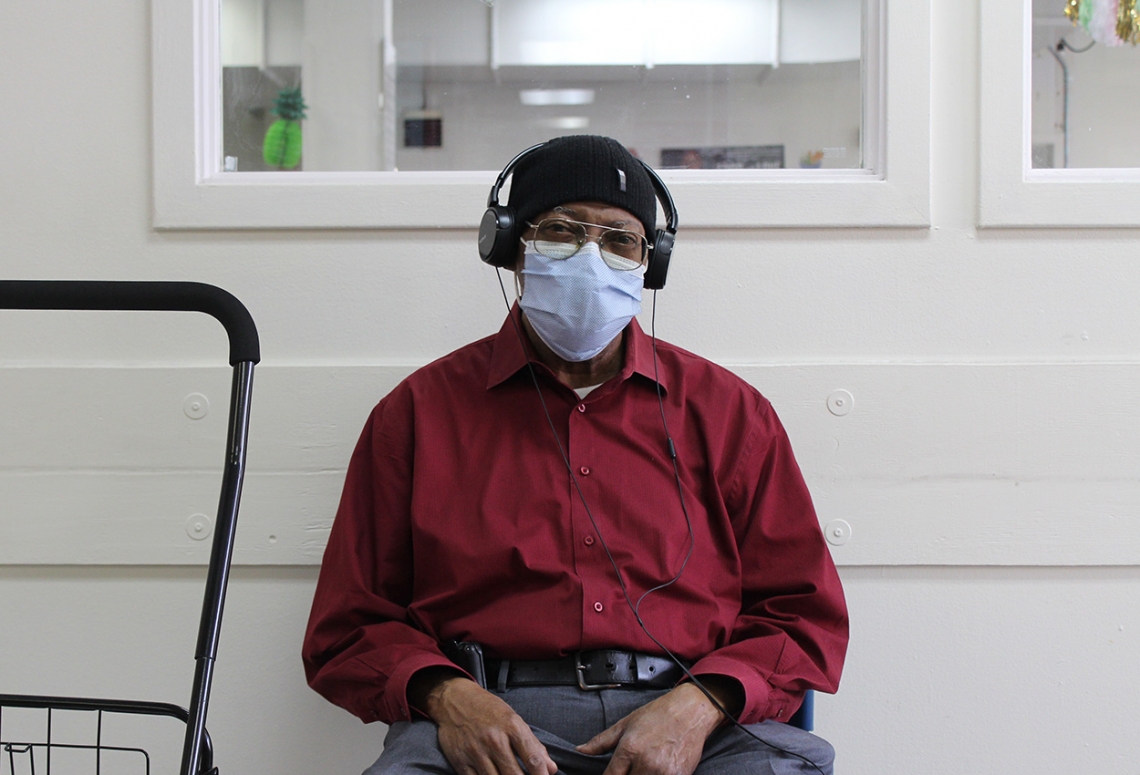 Frank walks into the Project Open Hand San Francisco Grocery Center with his own handcart and plastic bags. He's ready to shop for this week's worth of healthy groceries.
He has a pair of large Sony headphones over his ears, connected to a portable CD player that fits perfectly into his left-pant pocket. Wherever he goes his music goes.
"I love music." Frank, an Air Force veteran, is also a musician. He writes his own music. Plays the keyboard. Sings his own vocals. "I can play all kinds of music like classical and, my favorite, jazz," he said.
While Frank can probably play the perfect tune to any song, his body plays an altogether different note. Because Frank has a bad heart.
Born in 1952 in Baton Rouge, Louisiana, Frank joined the Air Force at the young age of 17 and became an Aircraft Sheet Metal Specialist. After his service, he made his way out west to San Francisco. He held jobs at United Airlines, the Veterans Affairs hospital, and in the food service industry.
Now a senior living in the South of Market neighborhood, Frank has had to deal with several health complications. He has heart disease. He had a stroke and two heart attacks. And he has a hard time holding down his food because of his irritable bowel syndrome.
"Old soldiers don't die, they just fade away," Frank said. And he continued to fade as access to healthy and nutritious foods were out of reach. "Food is so expensive, "he said. "I would be going without food sometimes, very little food, or have bad food they give to poor people.
"Frank clearly needed help. During a medical visit, he learned about the services available to veterans in need like himself and his case worker referred him to Project Open Hand. On his first visit, he met with a Registered Dietitian Nutritionist (RDN) for a nutrition and wellness assessment. They discussed how medically tailored nutrition could support his dietary needs and get him back on the road to better health.
Did you know that Project Open Hand has provided 596 one-on-one RDN sessions to veterans like Frank over the past 10 years? In that time, Project Open Hand served 786 veteran clients and provided them with 168,040 meals and 27,250 bags of groceries.
Over 70 percent of these veterans were over the age of 60, and over 61 percent indicated that their monthly income was below $1,200 — not nearly enough to survive in one of the most expensive regions in the nation.
It's been a year and a half since Frank signed up in June of 2019. He comes in three times a month to pick-up medically appropriate foods like fresh vegetables and nutrient-packed proteins. He said that the nutrition he receives has given him increased energy and kept him healthy, especially during COVID-19.
According to the most recent study by the Centers for Disease and Control, 80 percent of COVID related deaths are 65 years or older. And according to a California Healthline review of local data from California's 12 most populous counties found that communities with relatively high poverty rates are experiencing confirmed COVID-19 infection rates two to three times higher than wealthier areas.
Access to healthy nutrition has been a life-changer for a veteran like Frank.
"That's why COVID is tearing us up, because we can't afford to get the good, healthy foods during this time.
"Project Open Hand takes away a lot of the stress of wondering how I'm going to get certain foods. If I run out of money, I'm not going to stress about how I'm gonna get my next meal, where's it going to come from. Who am I going to turn to? I call that stress," Frank said. Project Open Hand relieved his stress. Now, Frank can continue to concentrate on his love of music while staying perfectly in tune with his health.