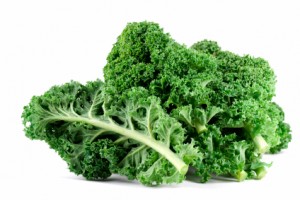 "Massage the kale. Use a capful of olive oil and really squeeze it."
Those were the words of wisdom shared at our recent potluck dinner by Hannah, Project Open Hand's special events director. It's the secret to her fabulous kale and quinoa salad, which she prepared for our potluck meal. (Project Open Hand's fundraising team often celebrates in the new year because the end-of-year giving season is so busy.)
I was all ears, as my previous attempts to prepare a salad with raw kale had the texture of a dry paper bag. Hannah's quinoa and kale salad recipe is too good not to share. Hope you enjoy it as much as we did!
Stay up to date on the latest Project Open Hand news by subscribing to our monthly "What's Cooking?" e-newsletter.
Hannah's Massaged Kale & Quinoa Salad Recipe
Massaging the kale is key to this recipe. Kale is tough and fibrous when raw, but when it's given a little special care, it can be made into something not only edible but tasty!
Salad Ingredients:
1 bunch of fresh kale
Capful of extra virgin olive oil
1 ½ cup uncooked quinoa
1 cup diced tomatoes
1 cup diced cucumbers
1 cup diced carrots
¼ cup minced fresh parsley
Dressing:
3 tablespoons extra virgin olive oil
1 tablespoon Dijon mustard
3 tablespoons freshly squeezed lemon juice, plus more to taste
1 teaspoon sea salt, plus more to taste
2 teaspoons fresh cracked black pepper, plus more to taste
It's delicious and nutritious and you can play with the kale-to-quinoa ratio to make this your own.
Instructions:
Bring water to a boil in a saucepan. Stir quinoa into the boiling water, reduce heat to medium-low, place cover on the saucepan, and cook until water absorbs into the quinoa, about 12 minutes.
Remove saucepan from heat and let it rest covered for 5 minutes. Remove cover and allow quinoa to cool completely.
De-stem the kale by pulling the leaves away from the stem. Wash the leaves, pat dry, and tear them into small bite sized pieces.
Put the kale in a large mixing bowl and add a cap-full of extra virgin olive oil. Hand-massage the kale for 2-3 minutes, or until it feels soft.
Add diced tomatoes, cucumbers, carrots, and parsley to the kale.
Add the cooled quinoa to the kale.
Whisk olive oil, Dijon mustard, lemon juice, salt, and pepper in a boil until oil emulsifies into the mixture. Drizzle over kale and toss.