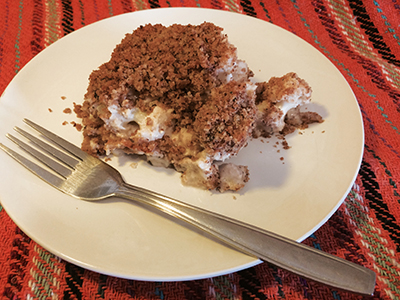 This easy side dish makes a great addition to your holiday table. 
Serves 10 people
INGREDIENTS
3 ½ pounds cauliflower, trimmed, cut into florets (about 8 cups)
6 tablespoons unsalted butter, divided
3 tablespoons all-purpose flour
2 cups half and half
7 tablespoons prepared white horseradish, divided
1 teaspoon white wine vinegar
Ground nutmeg
1 cup packed grated Fontina cheese (about 4 ounces)
½ tablespoon Dijon mustard
2 cups fresh breadcrumbs
DIRECTIONS
Preheat oven to 375 degrees.
Steam the cauliflower over boiling water until crisp-tender, about 9 minutes. Transfer to 13x9x2 inch glass baking dish.
Melt 3 tablespoons butter in a large sauce-pan over medium heat. Add the flour and stir 2 minutes (do not brown).
Gradually whisk in half and half. Cook until sauce boils and thickens, whisking constantly, about 4 minutes.
Mix in 5 tablespoons horseradish and vinegar. Season to taste with nutmeg, salt, and pepper.
Pour the sauce over cauliflower and mix to coat.
Sprinkle cheese over the top of cauliflower mixture. 
(Can be made to this step one day ahead. Cover and chill.)
Make the topping: 
Melt remaining 3 tablespoons butter in a medium skillet over medium heat.
Mix in mustard and remaining 2 tablespoons horseradish.
Add breadcrumbs; stir until crumbs are golden brown, about 9 minutes.
Sprinkle over cauliflower. Bake until cauliflower is heated through, about 25 minutes.