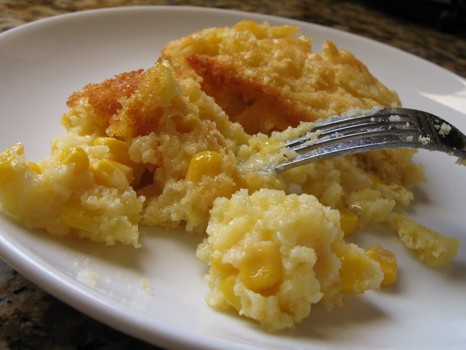 This sweet and savory corn pudding is a great side-dish to accompany your holiday meal.
Serves 8 people as a side dish
INGREDIENTS
1/4 cup (1/2 stick) butter, at room temperature
3 Tbsp. sugar
4 large eggs
1 1/2 cups low-fat milk
4 cups frozen corn kernels, thawed (about 19 oz.)*
2 Tbsp. all-purpose flour
2 tsp. baking powder
1/2 tsp. salt
*You may substitute fresh, uncooked corn for frozen corn
DIRECTIONS
Preheat oven to 350°F.
Butter 8x8x2-inch glass baking dish.
Put butter and sugar into a food processor and cream together until light and fluffy.  Add eggs one at a time and blend thoroughly.
Slowly pour in the milk in a steady stream with the motor running.  Blend until milk is fully incorporated.
Add corn and remaining ingredients and pulse in a few times until fully combined.  DO NOT puree; the mixture should remain chunky.
Pour batter into prepared dish.
Bake pudding until brown and center is just set, about 45 minutes. 
Cool 10 minutes; serve.