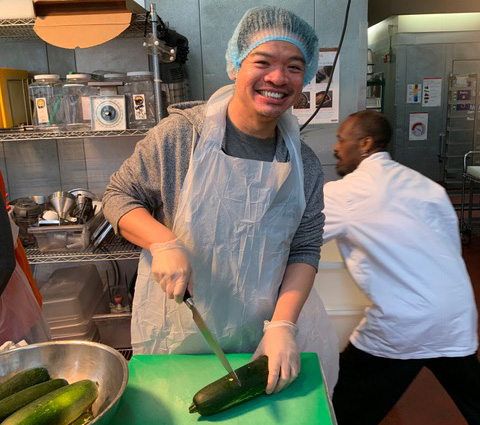 It was 2001 and San Francisco native Jarrod Wong was looking for a volunteer opportunity in the city on the weekends.
He was mainly interested in food organizations, so he began his search online. After filtering through organizations, he eventually landed on Project Open Hand's webpage.
"Once I came to volunteer here, the rest is history," he said.
Eighteen years have passed since he found Project Open Hand online and his passion to help others as a young adult continues to this day.
Jarrod, who grew up in San Francisco's Richmond District and is a Cal Berkeley graduate, had a desire to help people early in his life. He knew many people who were directly affected by the AIDS crisis in the 1980s and early 1990s. Having seen so many suffer from this critical illness, he saw Project Open Hand as the perfect place for him to start his volunteer career.
"Growing up in the era of the HIV/AIDS epidemic in SF, I saw healthy people whittle away to nothing because of the lack of knowledge, in those days, of the healing power of food," Jarrod said.
He fondly recalls his first volunteer experience. He portioned out oatmeal with a group of volunteers on a Saturday morning in the grocery center. They all shared stories about what brought them to here and, "Had lots of laughs as we worked in the grocery center, the oatmeal dust spilling all over ourselves."
Since then, Jarrod has seen Project Open Hand expand its services to seniors and clients battling illnesses outside of HIV/AIDS — and he has grown right along with the organization. He began volunteering in the kitchen chopping vegetables and onions and added on more duties in the grocery center, including his favorite task — shopping for groceries for clients.
Jarrod explains, "Seeing the smile on their faces and helping them shop for groceries for the week makes me feel like I am helping, in a small way, to make their lives easier so that they can focus on themselves without having to worry about where their next meal is coming from. Connecting with the community and helping my fellow San Franciscans is the least I can do for a city that I grew up in. It made me the person I am today."
Jarrod, an auditor for Public Company Accounting Oversight Board in San Mateo, now tries to share his enthusiasm for volunteering at Project Open Hand. He has organized work-group volunteer days with his co-workers and he's a part of Project Open Hand's Young Professionals Council, a group that develops the next generation of civic leaders who are passionate about food justice in the Bay Area.
"It makes you a more compassionate and thoughtful person you can be proud of. To know that you can make a difference in people's lives, whether through meal delivery or chopping vegetables, is inspiring," Jarrod said.
Project Open Hand requires more than 125 volunteers every day to provide nutritious meals to the sick and elderly in our neighborhoods.
Join our Food is Medicine movement and sign up to volunteer today at www.openhand.org/volunteer.