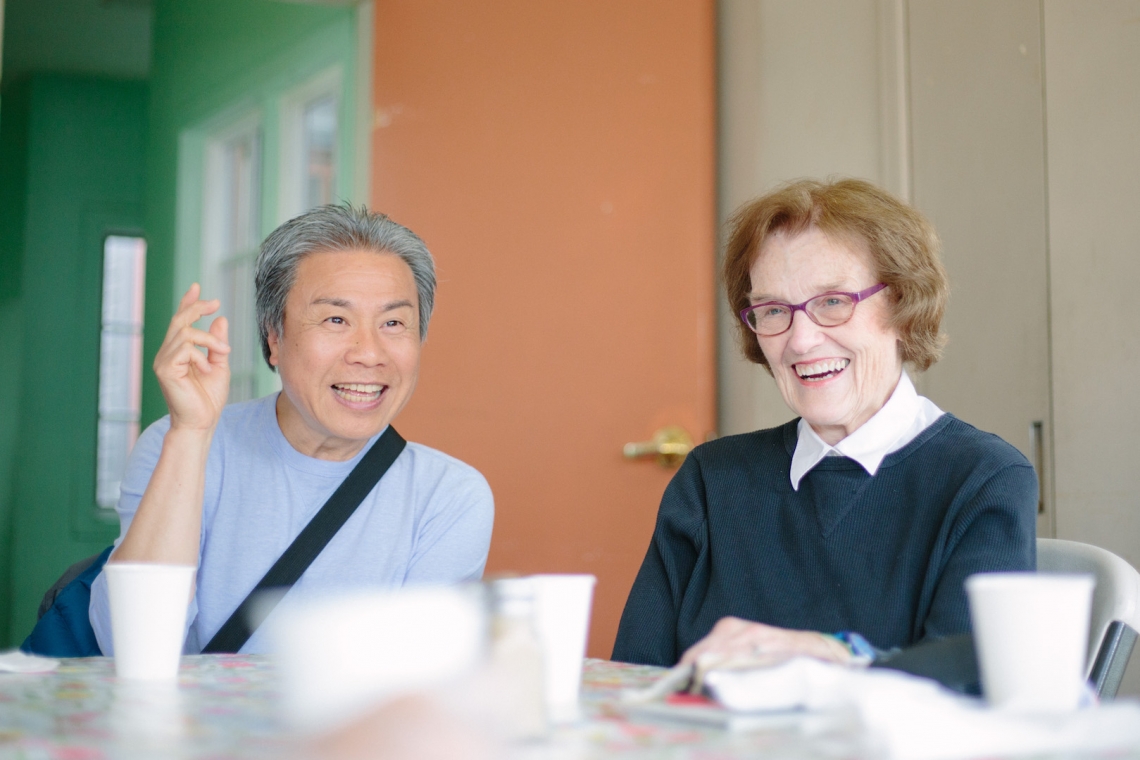 Where magnificent views of the downtown skyline beckon, complete with construction cranes, billboard ads and cars of all shapes and sizes sitting in traffic, sits a large, dark, wooden building with the formal name of Potrero Hill Neighborhood House. Think equal parts clubhouse, community center and gathering spot. Birthday parties (tap dancing optional) are a regular happening in the main hall. It's also where, every Monday through Friday since 1998, folks in this neighborhood have depended upon Project Open Hand for a healthy and nutritious meal. And it's just one of over 20 sites across San Francisco where Project Open Hand offers a neighborhood nutrition program.
Volunteering to help serve and enjoy a hot lunch of rice, fish, peas and sauce complete with milk cartons was envigorating. I was glad to be around such fun people, and grateful that I had not made firm plans to be back in my home office for the afternoon, so that I could enjoy a day of connecting with Project Open Hand volunteers and staff. 
Wednesday is cupcake day.  And it's often the one time a week when a client can take home a sweet decadent treat from Kara's Cupcakes. Project Open Hand's Professional Cupcake Preppers carefully use a thermometer to check the fish's internal temperature — a super important and proper food safety measure and something that was drilled into my head in cooking school and many catering gigs later. Across from the food set up, there was bingo, an enormously popular happening. There is one established and quite serious rule: do not talk to or interrupt the Bingo players (plenty of seats for non-Bingo folks are throughout the room).
Some clients and I laughed while listening to the stories of Lorys Crisafulli, 90, who chatted as the Bingo ball rolled on the other side of room, a few tables away. 
For the past four years, after moving from the East Coast, Lorys has been regularly lunching at this site, which the Project Open Hand's Potrero Hill locals call The 'Nabe. Online, Lorys describes herself as "an old broad who likes people."
"I've been Mom, teacher, shop owner, involved in my community in Western Penn, and even Miss January at age 80 in a best-selling calendar. Now I'm Gramma to Caroline in a Kansas Street earthquake cottage."
Lorys seems to have more energy and fun than I do, and her smile is infectious. As she sat next to me and set her cane against the table, Lorys said that food is her secret to longevity, when I made a far-too-surprised guffaw and open mouth gasp after revealing her age. I would guess that keeping busy and involved also seem to motivate and contribute to her vitality. In person, she looks a good decade younger.
Close friends are a reason why she continues to seek out regular servings of meals with love – before I left, she received a verbal confirmation from two departing gentlemen/senior clients that they would pick her up on Saturday, for an outing to In-and-Out. They used code phrases so the Project Open Hand-hired nutritionist, Jeanette Bemis, would not be wise to their fast food adventures.
As the brainchild behind a "Honeys Over the Hill" 2017 calendar project, Lorys says that over $8,000 was raised for the Nabe — some of the photo shoots took place at her cottage nearby. Tellingly, Lorys is smiling and sitting in a white convertible for her month, which is appropriately January. A black lacy shawl hangs over the white car door, and she has ropes of pearl accented costume jewelry on her ears, wrists and neck. She and some friends sold the Honeys Over the Hill calendars at the nearby Ramp restaurant on a cold December holiday evening, and I can just imagine Lorys charming anyone sitting on a barstool into buying a copy—no, make that three copies!
One of her closest pals is a silver haired gentleman named James. He seemed distinguished as he sat kitty corner from me at the lunch table when I first sat down, looking at a salad-themed crossword (a regular paper exercise offered by Jeanette). After he did the crossword, he turned his attention to a print version of the New York Times newspaper, which he set aside thirty or so minutes later, when Lorys arrived. He shares an interest in ballroom dancing, which he eagerly discussed with Jeanette and Lorys. Although he is shyer, he is close enough to Lorys that he made sure she had a ride home. I was happy to oblige for the chance to have more time with them both.
Click here for more information about Project Open Hand's neighborhood nutrition program helpings seniors and adults with disabilities. 
Mary Ladd's writing has appeared in Playboy, Time Magazine, KQED, & San Francisco Weekly. She is currently working on The Wig Report, a hilarious book project on catastrophic illness. Mary went through 22 rounds of chemo, 7 surgeries, 8 infections, 49 blood tests, and completely lost her hair, eyebrows, and 30 pounds… but gained 4 wigs and many fashion finds in the process.