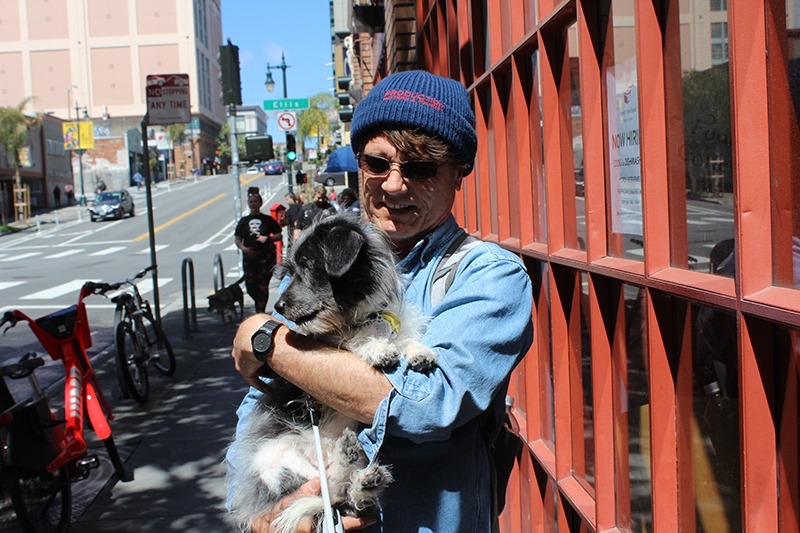 Michael B. loves the outdoors. When it's a sunny day, he'll be at the beach. If the weather is temperamental, he can find a little protection under the tall cypress trees that fill San Francisco's Golden Gate Park.
On every one of his journeys, a four-legged friend is always by his side, and on this sunny Tuesday afternoon, he and his blind five-year-old terrier mix, Barney, head to Project Open Hand on Polk Street for weekly groceries.
The grocery center lights up with energy and joy as soon as he walks in with his dog. Clients and staff members want to pet Barney and feed him treats.
"He is priceless. We were meant to be at this time in my life," Michael said.
Life is certainly priceless to Michael, who credits Project Open Hand Nutrition Services as one of the reasons why he has lived as long as he has.
"From the many years I dealt with doctors, (I learned) if you eat fresh foods, you get the proper vitamins, and in some ways that's better than pills. It's one of the best medicines," Michael said.
Michael was born in Placerville in 1959. After five years, he moved to Half Moon Bay with his family. When he got older, he moved to San Jose and stayed in the South Bay during the 1970s and 1980s.
He had a career in electronics as an assembler and electronic test technician for computers followed by retail work.
But everything changed for Michael in 1987.
Michael explained, "In '87 we were just finding out about (HIV/AIDS). My friends were dying all around me. I wasn't sick yet, but I decided to just be safe and get tested after I saw my best friend pass away."
Michael was tested and the results came back positive. He immediately started medications, but continued to work in retail to pay his bills.
"It was hard. Working with customers is stressful, and then you add the fear of dying of HIV— it was a hard life back then," Michael said.
When his condition worsened in 1994 and his doctors gave him two months to live, he decided to make a change. He switched to part-time work and moved to San Francisco to seek better medical treatment.
At a medical clinic in the Mission District, therapists recommended Project Open Hand.
He received a medical referral and signed up. Over time, he began to feel the positive effects of having nutritious meals to supplement his treatments.
Michael went on full disability in 1996 and has lived in an apartment for residents with disabilities and HIV/AIDS for the past 21 years.
Michael said, "Receiving Project Open Hand meals was a big part in saving my life."
He now has the continued energy to perform activities such as volunteering, cooking his own meals with fresh produce and grocery staples from Project Open Hand, and, most importantly, embracing the outdoors with his furry companion, Barney.
"Project Open Hand has added a lot of years onto my life because I'm healthy now. Sometimes, I think I'm more healthy now than before HIV," Michael said.
Of the thousands of clients who participate in Project Open Hand Wellness Program services, 35 percent are diagnosed with HIV/AIDS. In a recent evidence-based research study led by Project Open Hand in collaboration with UCSF, patients with HIV/AIDS and/or Type-2 diabetes who receive complete nutrition for six months showed a 63 percent decrease in hospitalizations and 58 percent fewer emergency room visits.
You can help provide nutritious, life-saving meals to the critically ill like Michael by donating today. Visit https://www.openhand.org/donate.