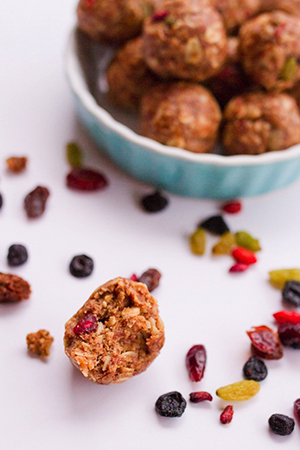 We asked Kelsey Harms, Project Open Hand's Nutrition Assistant, for some runner-friendly recipes to give our Giant Race participants as they prepare for the big race. This energy ball recipe was at the top of her list, and it's at the top of ours now, too! 

No-bake Energy Balls
Makes 15 balls
Ingredients:
1 cup old fashioned oats
1/2 cup nut butter
1/4 cup ground flax seed
2 tablespoon dried fruit, like cranberries or cherries
3 medjool dates, pitted
1 Tablespoon maple syrup or agave syrup
1/2 teaspoon ground cinnamon
Directions:
Combine dates, nut butter, and maple or agave syrup in food processor and pulse until dates are fully chopped and everything is combined.
In a bowl mix together oats, flax seed, dried fruit, and cinnamon. Add date mixture and stir until combined. Roll into 1 inch balls. Place in airtight container and store in fridge for up to one week.
Nutrition Facts per Ball: 122 calories, 14 grams carbohydrates, 4 grams protein, 6 grams of fat
*Good post-race snack or pre-race (an hour or so before) snack for quick fuel.
Recipe adapted from: http://www.eatingbirdfood.com