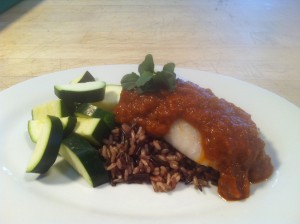 On February 27, our clients enjoyed Cod with Roasted Bell Pepper Sauce.  We're delighted to share the recipe for this healthy, flavorful dish that you can make at home.
I recommend serving this dish with a whole grain (such as brown rice) and seasonal vegetables. You can skip roasting the pepper, but the dish will lack the rich, smoky flavor.
Cod is white, firm fleshed fish that thrives in the cold, deep Arctic waters. It is a low calorie source of protein and promotes cardiovascular health due to its high content of blood-thinning Omega 3 fatty acids.
Makes 4 servings
Ingredients:
4 cod filets
1/4 cup Olive Oil
2 Red Bell Peppers
2 Fresh Tomatoes
½ Yellow Onion
2 Garlic cloves
2 teaspoons Paprika
1 teaspoon Chili Powder
1/4 teaspoon Cayenne Pepper (optional)
1 teaspoon Brown Sugar
1/2 teaspoon salt
1/2 teaspoon pepper
Preparation:
Preheat oven to 375 degrees F.
Cut the bell peppers in half, and remove the stem and seeds. Cut each half into 4 pieces. Toss with ¼ cup oil. Roast in the oven, uncovered, for about 20 minutes or until the skin blisters and turns golden brown.
When the bell peppers are done roasting, turn the oven down to 350 degrees F. If desired, lightly coat the Cod with olive oil and season with a pinch of salt and pepper. Roast in the oven for approximately 12-15 minutes.
While the bell pepper is roasting, dice the onion and the tomatoes in a ½" dice. Rough chop the 2 cloves of garlic.
Heat a sautee pan over medium heat with the remaining oil. Add the onion, garlic, tomatoes and bell peppers. Sautee for 2 minutes and add all the seasonings.
Sautee for another 8-10 minutes, stirring frequently. When the vegetables are very tender, put into a blender and puree.
Spoon the sauce over the Cod. Serve with a whole grain and vegetable (Wild Rice and Zucchini in the photo).
Want more nutritious recipes like this? Sign up to receive our "What's Cooking?" monthly eNewsletter.