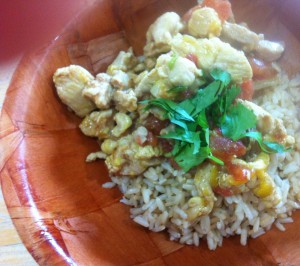 Red Curry Chicken is a favorite dish of many Project Open Hand clients.  Our recipe contains fresh ginger, which can be used to relieve nausea and upset stomach. Used as medicine in cultures all over the world for at least 2000 years, ginger has anti-inflammatory properties (great for headaches and arthritis), and is also used as an anti-bacterial, anti-viral, anti-oxidant, and anti-parasitic.
Serves 4
Ingredients:
1 pound boneless skinless chicken thighs, diced to 1/2 inch cubes
1/2 yellow onion, diced to 1/2 inch
1 clove garlic, minced
1 teaspoon minced fresh ginger
3 cups canned, diced tomatoes
1 teaspoon curry powder
Pinch black pepper
1 teaspoon granulated white sugar (optional, balances the acidity of the tomatoes)
1/2 cup chopped cilantro
1 tablespoon olive oil
Preparation
Heat a pot over medium heat and add the oil. Sauté the onions until soft (do not allow to brown). Add the garlic and ginger. Sauté for one more minute.
Add the curry powder and sauté until fragrant (about 30 seconds).
Add the tomatoes, sugar, salt and pepper. Bring to a boil, and add the chicken.
Turn the heat down to low, and simmer until the chicken is cooked through, about 10 minutes. Add the cilantro.
Taste for seasoning, and add more salt, pepper and curry powder if desired.
Serve over brown rice or any whole grain you'd like! (Served in photo with brown rice).