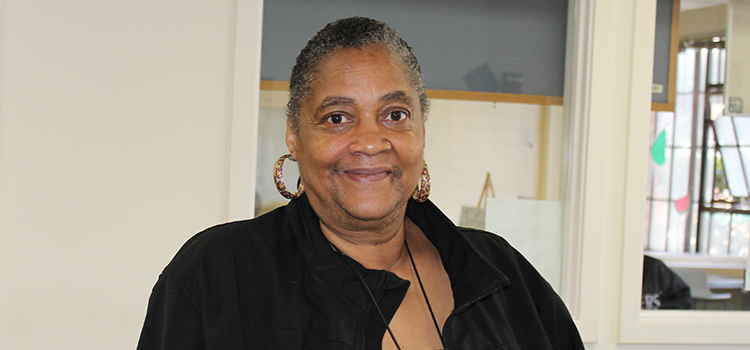 Now that I've found you
I want to stay around you
So make me yours,
Make me yours.
Patricia loves music. But there's one particular song that melts her heart — "Make Me Yours" by Bettye Swann. It's a ballad about finding happiness in being loved.
"My favorite song to sing is 'Make Me Yours.' It's an old song. I can play it for you," she says jokingly while gesturing toward her smartphone.
Patricia, a Chicago native who moved to San Francisco in 1984, is in good spirits this day. With her infectious laugh and talkativeness, most would think she was this way every day. But what people don't know are the struggles she faces daily.
"I don't go around telling people I have cancer, but my body tells me different things," she says. "Something as simple as cleaning my house is a hard job."
Doctors diagnosed Patricia with cancer in both kidneys in 2000. During an ultrasound examination of thyroid tumors, doctors discovered the tumors in her kidneys. They immediately told her to make an appointment to see a specialist.
Rather than visit a specialist, Patricia said, "I boxed it out of my mind for a couple years," and acted as if the cancer didn't exist.
But it did exist, and the pain she started to experience eventually prompted her to visit Zuckerberg San Francisco General Hospital and Trauma Center.
"I remember SF General gave me an MRI, and the doctor had these pictures of these kidneys and said, 'These are healthy kidneys right here. And these are your kidneys,'" Patricia recalled.
The cancer was so severe that the hospital admitted her right away, and surgeons worked on removing the tumors for two days.
Since then, she has had multiple surgeries to remove life-threatening tumors from her kidneys.
"That's the way they treat it — with surgery," Patricia said. "As long as they can keep them contained inside my kidneys, I'm good. If the (tumors) get big, I got to go in."
But there was another form of treatment that she was made aware of by a case manager at the single resident occupancy in the Tenderloin that she lived in — medically-tailored nutrition.
With a referral from the case manager and a nurse, Patricia began receiving Project Open Hand meals and groceries in May of 2014.
Patricia's high-calorie, high cholesterol fast-food items were eventually replaced with fresh produce from the San Francisco grocery center and prepared, medically-tailored meals. Her vegetables of choice are asparagus and cabbage. Her favorite meals are chicken, beef patties, and tilapia.
She also met with Project Open Hand nutritionists and tried to incorporate their lessons. Instead of frying food, she now chooses to bake most of her food.
"I changed my eating habits...this food gives me energy," Patricia said. "You got to eat to live. But I used to live to eat."
Project Open Hand not only gave her a healthy way of eating, but it also gave her a sense of well-being.
"If you're feeling sorry for yourself because you are sick, and you think you are the only one, come here cause everybody in here has got something seriously wrong with them.
"I used to come over here when I was feeling bad and just walk up here because I felt a sense of community," Patricia said.
She may not have found love at Project Open Hand, but she did find a piece of happiness and has stayed around since.
Eleven percent of Project Open Hand total clients live with a form of cancer. The Wellness program offers a medically-tailored nutrition intervention to support the critically ill like Patricia. To help us continue services that include medically-tailored meals, fresh groceries, and nutrition counseling and education, please donate at https://www.openhand.org/donate.