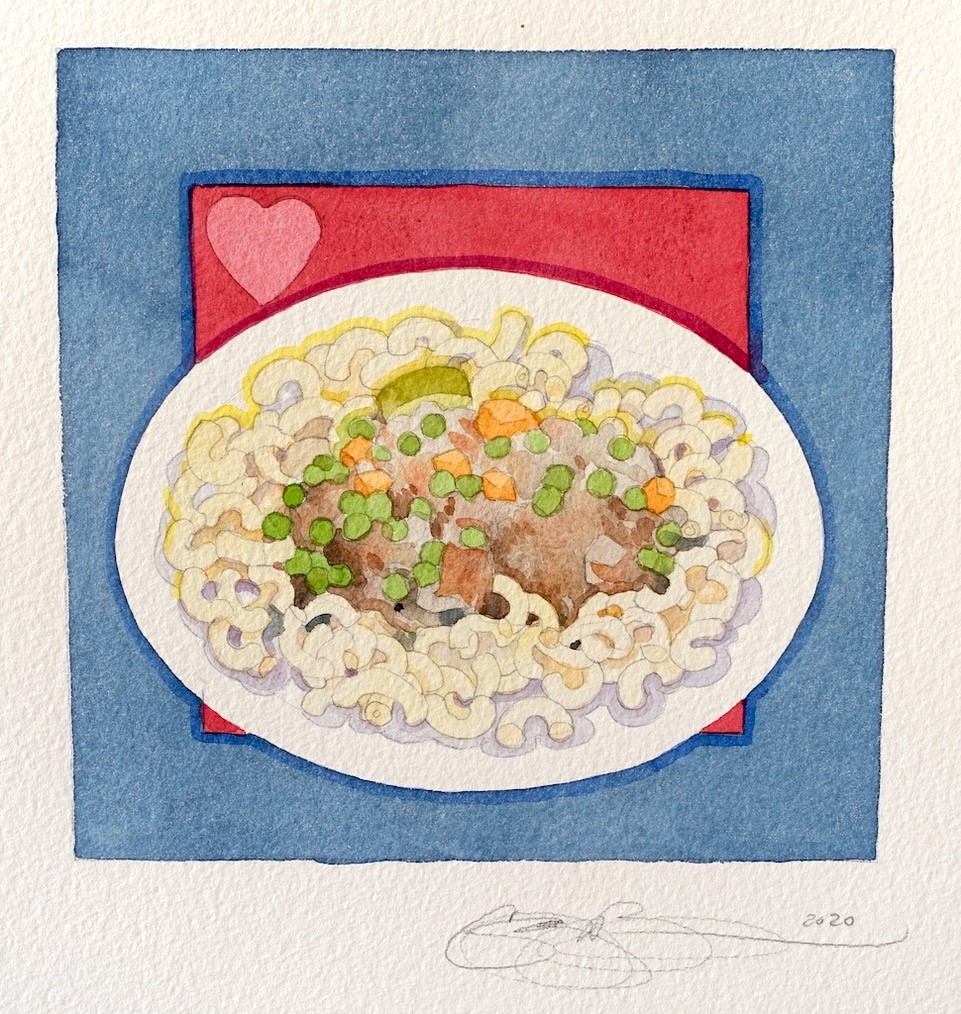 Pork Stew
Ingredients
3 oz. Potatoes, sweet – ½" diced
4 oz. Mushrooms, sliced
3 oz. Parsnip, ½" diced
5 Tbsp. oil-blended
3 lbs. Pork Stew meat, ½" diced – no fat.
1 Tbsp. flour, AP
3 cups water
2 oz. Celery, ½" diced
1 oz. Rosemary, dried, crushed.
1 tbsp. ground sage
1 tsp. salt
1 oz. parsley chopped.
2 oz. raisins the chopped pasrsel and   raisins and  stir into stew.
Directions
Day before it helps to roast the potatoes, parsnips and mushrooms.
Toss each item in 1Tbsp. oil, spread on a baking tray, and roast at 350*.
Roast the mushroom for about 6 minutes, and roast the root veg.  Until cooked and soft to touch.
About 15 minutes. Cool and reserve till next day.
Heat the remaining tbsp. Oil in a medium stock pot till hot and   add diced pork to sear evenly.
Stir occasionally, allowing meat to caramelized and color.
Sprinkle meat with 1 Tbsp.  Flour to create an instant roux, and add water.
Stir well to avoid lumps and bring to a boil.  
Lower to a simmer and cook for 15 to 20 minutes, until pork is tender to the touch. If water evaporates too quickly add another cup.
Add celery, spices, roasted potatoes and parsnips, and cook for about 10 minutes to develop the flavors of the pork and   vegetables and to thicken into a stew.
Add the raisins and chopped parsley and   stir into   stew.
 Remove stew from heat and taste for flavor.
Serves about 8 portions @ 8 oz. per person.
Here at Project Open Hand we would likely serve this dish with White macaroni, and   a side vegetable of peas and carrots to aid in supplying a healthy dose of   vitamins and fiber to the meal.
Calories            337 Kcal                       Carbs                15.4 gm                                   
Protein            28.5 gm                          Fat                   17.7 gm                       
Chol                 106 mg                         Sodium            207 mg
Calcium            120 mg