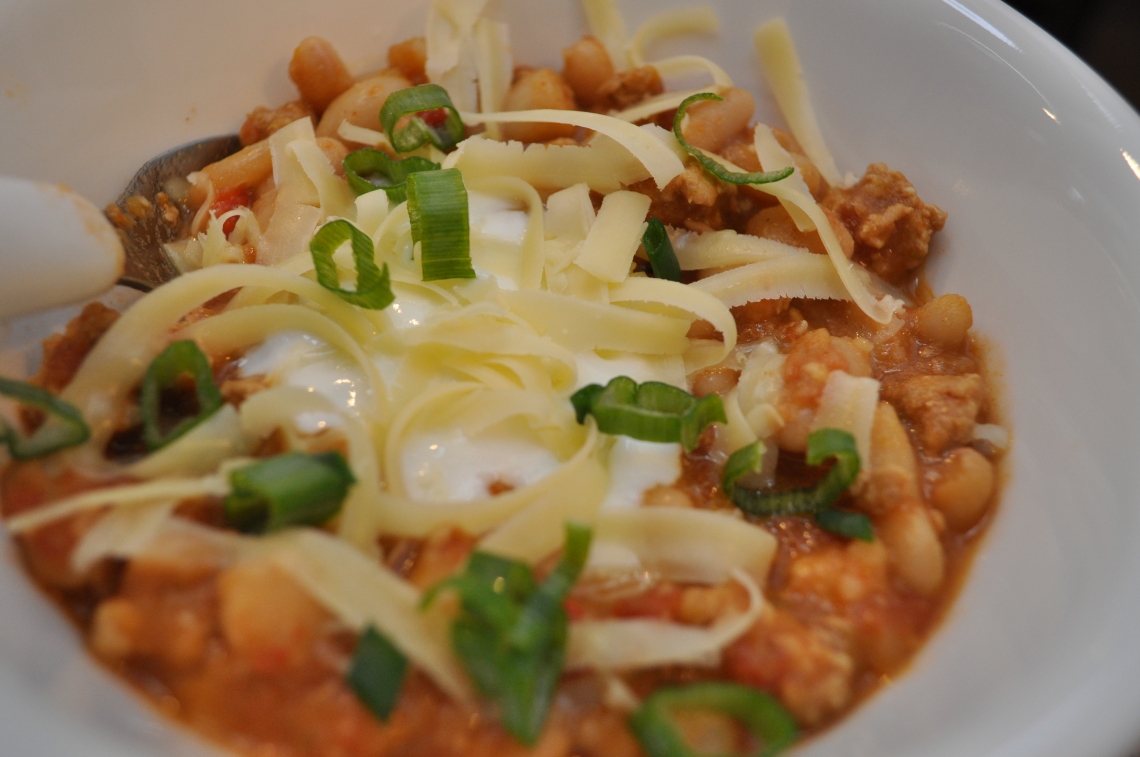 Serves 4-6

Ingredients

1/4 cup extra-virgin olive oil
4 large cloves garlic, smashed, peeled and chopped
2 large poblano chiles, stemmed, seeded and diced
1 celery stalk, chopped
1 large onion, chopped
1 1/2 pounds ground turkey (dark meat)
1 tablespoon all-purpose flour
4 tablespoons tomato paste
3 tablespoons chili powder
1 tablespoon ground cumin
2 teaspoons (packed) dark brown sugar
1 teaspoon dried Mexican oregano, crushed
Kosher salt and freshly ground black pepper
1/2 teaspoon ground cinnamon
1/8 teaspoon ground cloves
3 cups low-salt chicken broth (preferably organic)
One 15 to 16-ounce can cannellini (white kidney beans), rinsed and drained
Directions
Heat the oil in a heavy, large pot over medium-high heat. Add the garlic, poblanos, celery and onions. Sauté until the vegetables soften, 5 to 6 minutes.
Add the turkey and sauté until no longer pink, breaking up the turkey with a spoon, about 7 minutes.
Sprinkle in the flour and stir to blend. Add the tomato paste, chili powder, cumin, sugar, oregano, 1 teaspoon salt, 1/2 teaspoon pepper, cinnamon and cloves. Cook 1 to 2 minutes, stirring to blend.
Add the broth and beans. Bring to a simmer. Reduce the heat to medium-low and simmer until the flavors blend and the chili thickens to desired consistency, stirring often, 20 to 30 minutes.
Season with more salt and pepper.
Top with assorted garnishes, such as chopped onion or scallions, shredded cheese, chopped tomatoes and/or sour cream, and fresh chopped parsley.
To serve, we pair our turkey chili with a variety of grains:  quinoa, brown rice, whole wheat macaroni just to name a few.
Subscribe to "What's Cooking?" e-newsletter to get great, healthy recipes from Project Open Hand delivered right to your inbox.