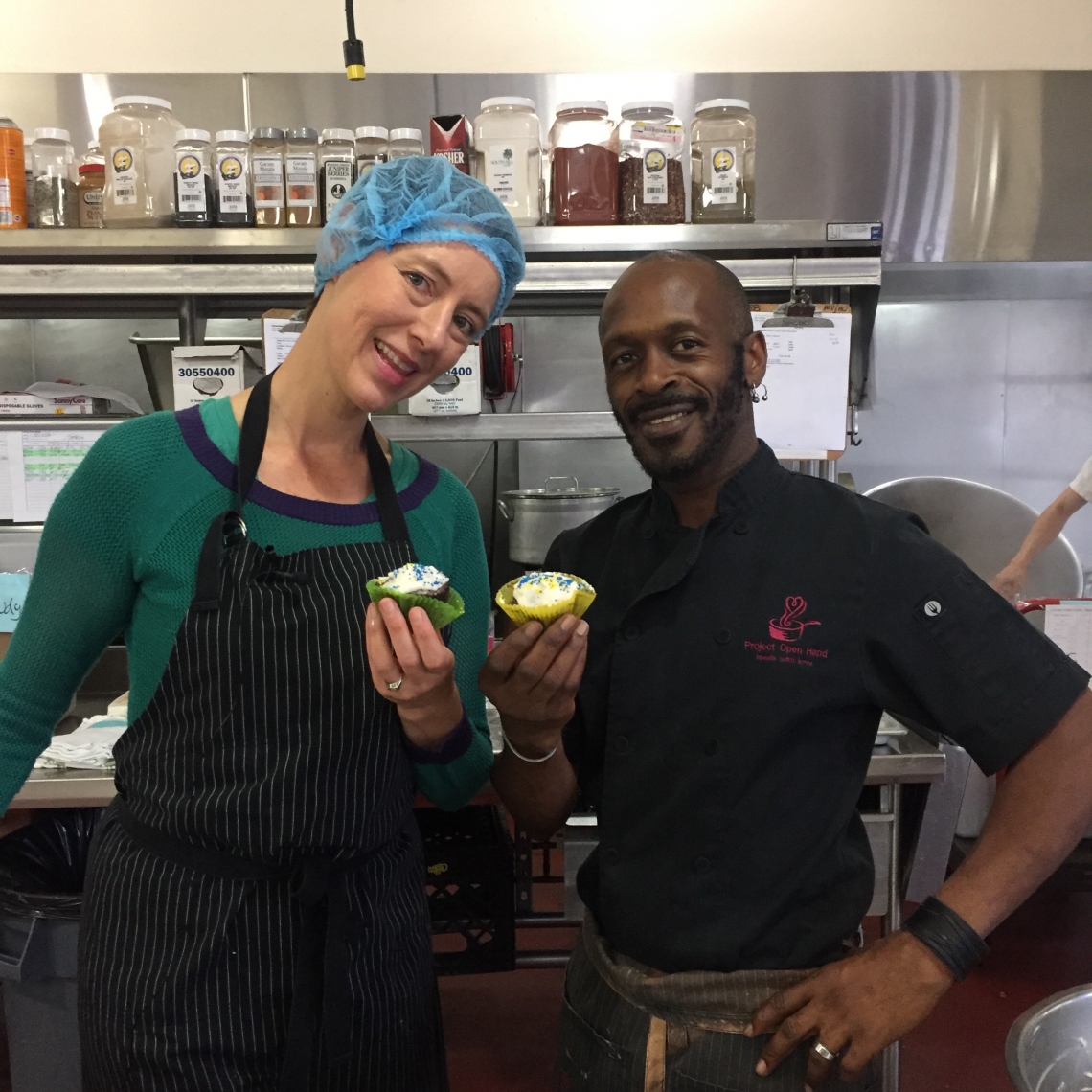 One of the toughest parts about having someone get sick is the struggle over what, exactly, to do for them after you send will wishes.
Cupcakes bring decadence and sweet fun when you are looking for a way to cheer up a friend or relative with breast cancer. Chemo decimated my palate and taste buds, but an occasional treat of chocolate cupcakes comforted and even relaxed me. When someone would bring a meal that included chocolates cupcakes, they were helping remind me of better times spent at birthday parties and celebrations (my own, as well as my young son, Cipriano). Baking a batch of cupcakes is even better.
Project Open Hand's kitchen smelled like baked and warm chocolate when Executive Chef Adrian Barrow and I made chocolate midnight cupcakes on a recent rainy Friday morning. Because there were volunteers helping cook and prep meals with love for clients, we knew we'd have ample help tasting and sampling the baked treats soon after they were finished with not-too-sweet easy vanilla frosting. The session took under an hour and is something you can recreate in your own kitchen.
An Easy and Definitely Tasty Recipe
I used to cater for Bi-Rite Market, and loved events that also included cupcakes from the Bi-Rite Creamery, helmed by Kris Hoogerhyde and Anne Walker—these ladies can bake  -- you've probably seen the lines for their award winning ice cream! In their book, Sweet Cream and Sugar Cones, the cupcake recipe header says that Mary Cech, pastry chef at "San Francisco's famed (and now-closed) Cypress Club" is to thank for the recipe.
During the transport and set up for catering work food would sometimes get jostled enough that the frosting would be a little smushed on a few cupcakes. I would watch the clock as I worked in the event kitchen, just waiting for the end of the event, when I could sample and share those smushed but still moist and delicious cupcakes.
With this recipe, you don't have to wait. 
Because the cake is made with cocoa powder, it carries antioxidant properties—generally, the darker your chocolate for baking and eating, the better. Dark chocolate boosts heart and skin health, skin circulation and is rich in protein and fiber and able to lower cortisol levels, which in turn leads to less anxiety. The olfactory pleasures of baking and eating these cupcakes is indeed its own form of therapy.
Chocolate Midnight Cupcakes
Adapted from Bi-Rite Creamery
1.5 cups sugar
3/4 cup (3.5 ounces) all-purpose flour
3/4 cup (3.5 ounces) cake flour
1/2 cup Dutch-processed cocoa powder
1 teaspoon baking soda
1/2 teaspoon salt
1.5 cups boiling water
2 large eggs
1/2 cup vegetable, canola or other neutral oil
Preheat the oven to 350 degrees and prepare your standard-sized muffin-cupcake pans with a light coating of baking spray and cupcake liners.

Whisk together the sugar, both flours, cocoa, baking soda, and salt.

Gradually whisk in the boiling water, about 1/2 cup at a time, until the batter is smooth and thick and all of the water is added.

Whisk in the eggs one at a time. Then whisk in the oil. Your batter will be smooth yet very thin.

Pour the batter into the muffin-cupcake pan(s).

Bake for 25 minutes.

Cool in the pan for 30 minutes, then invert onto a wire rack. Let cool completely. Make frosting and frost & decorate the cupcakes.
Vanilla Frosting
2 cups powdered sugar
2 T butter softened
2 T milk
1/2 teaspoon vanilla
Combine all ingredients into a bowl. Beat with a mixer on medium speed or by hand with a whisk until fluffy.

Use a spreader or offset spatula to frost the cupcakes

Decorate with colorful sprinkles if desired
Mary Ladd is a former Shanti client & the author of The Wig Report, a hilarious insider's gift book on navigating oozing infections, constipation, hospitals, chemo, genetic counseling, surgeries (including the full removal of breasts & ovaries), letters to Angelina Jolie, blood tests, & a major doctor crush.