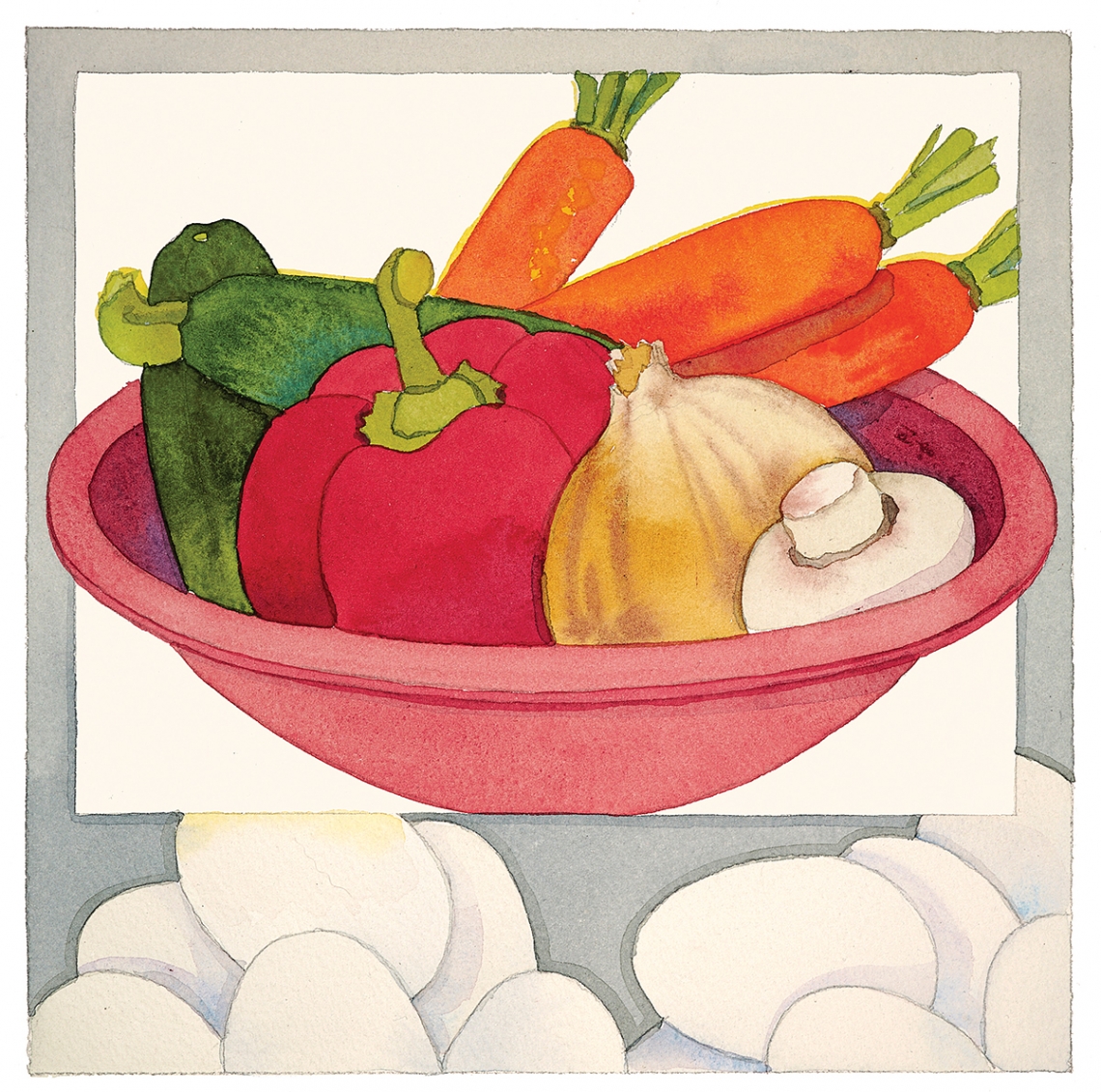 Roasted Vegetable Frittata w/ sundried Tomatoes
Ingredients:
1 ¼ cup Red Peppers, diced
1 ¼ cup Onions, diced
2 cups Zucchini, diced
1 ¼ cup Carrots, diced
10 oz. Button Mushrooms, diced
¼ cup Olive, Canola or Vegetable Oil
2 tsp. Garlic, minced
1 tsp. Dried Basil
1 tsp. Dried Thyme
1 tsp. Dried Rosemary
1 ½ cup shredded Mozzarella
*1 dozen Whole Eggs
1 ½ tsp. Salt
1 tsp. ground Black Pepper
¼ cup Sundried Tomatoes, diced small
Instructions:
Pre-heat oven to 375*F.
Spray an 8x8 or 9x9 baking dish with non-stick spray.
Spray a cookie sheet with non-stick spray and set aside.
Prepare the vegetables and set aside. We suggest dicing because they are easier to roast and fold into the mixture.
Mix oil, fresh garlic, and spices together and mix with vegetables. Spread the seasoned vegetables on the sprayed cookie sheet. Roast at 375*F for 10-12 minutes. Remove from oven and cool completely.
Reduce oven to 325*F.
In a bowl, crack the eggs and whisk together with salt and pepper. Fold the cooled roasted vegetables and 1 cup of cheese into the egg mixture. Pour into sprayed baking dish and sprinkle with remaining cheese and sundried tomatoes. Cover with foil. (Spray the inside of the foil with non-stick spray so the cheese will not stick).
Bake at 325 degrees for 20 minutes, remove foil, and bake for 10-15 minutes. The frittata should not have any residual jiggle when you test for doneness. Give the baking dish a light shake. If the baking dish produces waves, then it's not done. If you shake the dish and it jiggles for less than 10 seconds and stops, the dish is ready.