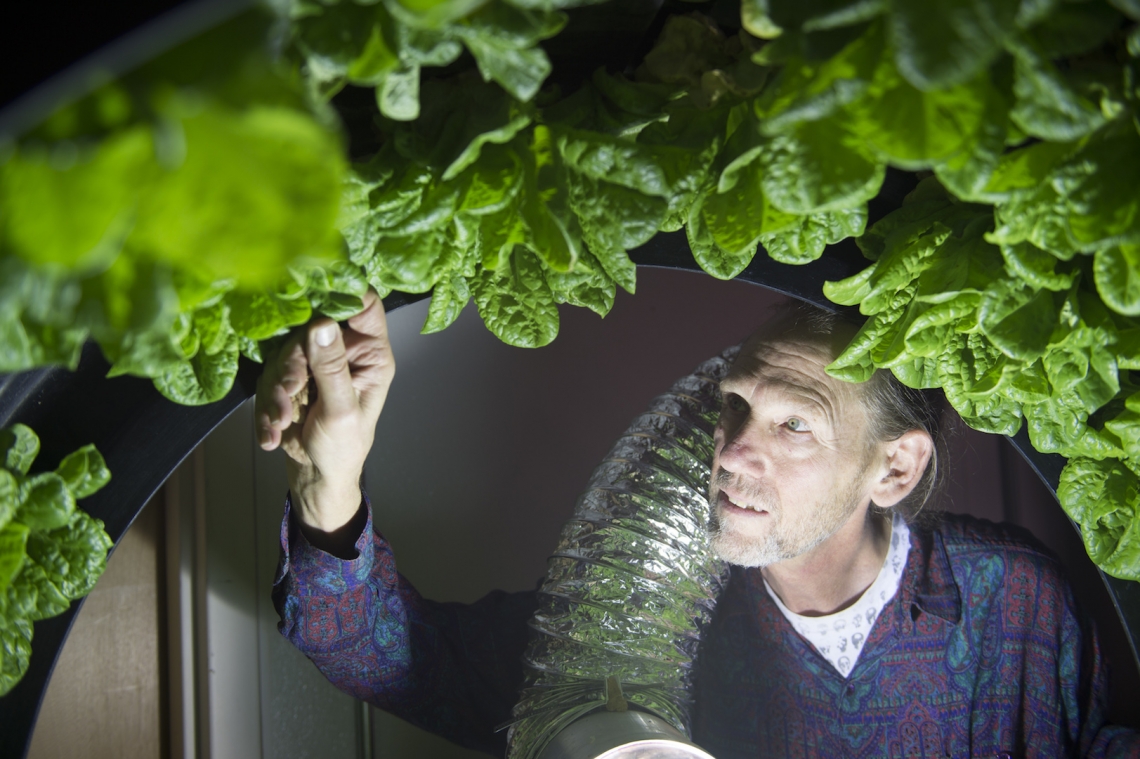 If you are a pasta-pesto fan and have ever wondered what a basil teenager is, volunteering at Project Open Hand's "Room to Grow" greenhouse will provide answers and the chance to work with plants in a light-filled space that feels amazingly quiet and calm.
Six weeks is how long it takes basil seedlings to grow into basil teenagers, according to Steve Hunter, Director of Building Operations, who on a recent rainy weekday demonstrated how to move the teenagers to one of four hydroponic Volksgarden® wheels. He has a relaxed nature and easy smile while working and talking. Vibrant leaves of basil grow next to plots of thyme and speckled lettuce—primo viewing for anyone on Polk Street, and a literal breath of fresh air amidst the MUNI busses, delivery vans and occasional blaring sirens.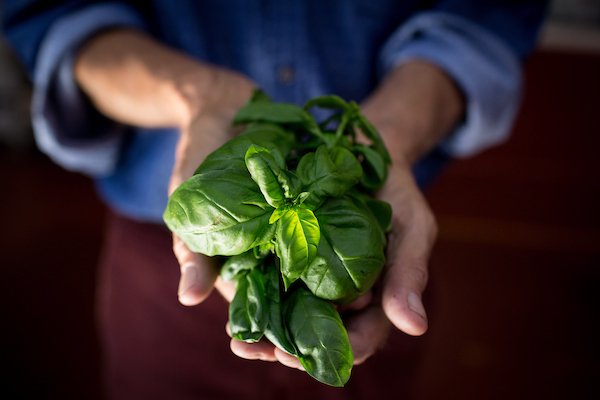 In a one-hour visit, I felt peaceful and like I was getting therapy by just being around the plants. It was startling to see one of the Thai basil teenager plants seem to jerk and move suddenly on its own — a sign of thriving green life unfolding right in front of me. Maybe it was like human teenagers, who dance and move to a beat of their own.
As a child in the Midwest, Steve was fascinated by how gardens work, where you "take this teeny thing and put it in soil and it comes up." A sailor and longtime vegetarian, the street side greenhouse remains a passion project.
Steve notes with pride how interesting it was for Project Open Hand to be a part of an urban Master Gardeners tour, because the gardeners had "never seen an operation like this," which shows how special and different the set-up is.
Along with two kinds of basil, volunteers have grown microgreens (lentil, flax, arugula, broccoli, mustard), Red Sails leaf lettuce, Freckles Romaine lettuce, broccoli, cilantro, Butterhead Speckles lettuce and mustard greens. 
The two larger Volksgardens each look like a giant black wheel from a huge car or maybe just an over-six-foot-tall Ferris Wheel of the garden. Each basil teenager slowly rotates from top to bottom in a moving-while-growing process that happens 24 hours a day. There is a light source in the middle of the garden wheel and the basil teenagers are briefly dipped in water when they are at the bottom of the Ferris wheel-Volksgarden.
Maybe you are one of the folks walking by Project Open Hand in the middle of the night and find yourself magically drawn in by these Ferris wheel-Volksgardens—there are 2 big wheels and 2 smaller systems in a set up that include wooden clothes pins. At night, the indoor greenhouse takes on a pink-hued glow that showcases the herbs and greens on display within—there are no flowers in this room because the goods here are all used to craft the meals with love for clients. I personally hope a live web "basil-cam" is set up soon, for those of us needing a dose of extra Zen.
Planting of the first seedlings began in October 2013, following a successful crowd funding fundraiser that brought in donations for the Greenhouse — check out the donor names on green leaves painted in the center of the space.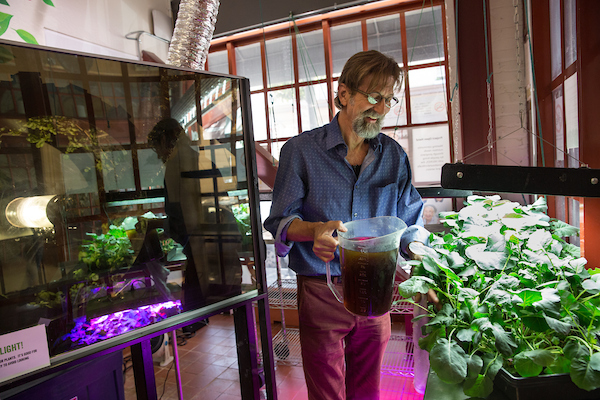 The big wheels in the greenhouse are hydroponic systems produced by Omega Garden, a Canadian company that sold them to Project Open Hand for half price, earning them the title of "incredible partners." One wheel-full of basil teenagers produces enough leafy greens for sauce used in 1,400 meals.
Rather than dirt, mineral rock wool is used with the basil teenagers, and it feels spongey to the touch when moist. From seeds, it takes six to seven weeks to harvest and some smaller harvests as plants are trimmed or thinned.
The motor for the Volksgarden should be changed regularly and the motor looks like a watch with longer, bigger straps. Weekly cleaning is in place to keep the plants thriving. A group of key volunteers bring innovative ideas and systems to the process. Project Open Hand client, Gary, pictured above, has been one of the key volunteers to bring positive energy and innovation to the Greenhouse.
"It's really nice if someone has an interest in plants versus knowing so much about plants," says Steve of the skills that make for a great Greenhouse volunteer. "Certain folks just know how you can touch plants, and what to do with them. We've had all kinds of people volunteer here. The ones who stick around really like plants."
If you're interested in volunteering at Project Open Hand's Room To Grow Greenhouse, please call  (415) 447-2404 or email [email protected]. Click here to make a donation in support of the Room To Grow Greenhouse and other Project Open Hand services, 
Mary Ladd's writing has appeared in Playboy, Time Magazine, KQED, & San Francisco Weekly. She is currently working on The Wig Report, a hilarious book project on catastrophic illness. Mary went through 22 rounds of chemo, 7 surgeries, 8 infections, 49 blood tests, and completely lost her hair, eyebrows, and 30 pounds… but gained 4 wigs and many fashion finds in the process.