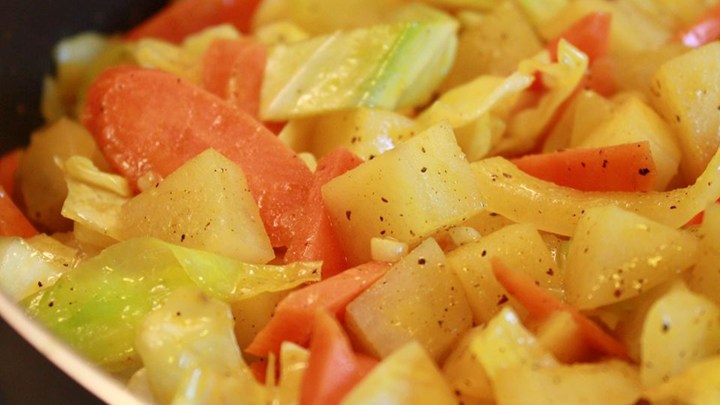 In this delicately spiced vegetarian dish, chunks of cabbage and carrots are added to an aromatic base and cooked until cabbage is sweet and silky. 
Ingredients (Serves 2)
1 tablespoons olive oil
½ cup finely chopped onion
Pinch of salt
3 garlic cloves, minced
One tablespoon fresh ginger, minced
¾ tablespoon ground turmeric
¼ cup water
1/3 pound carrots, peeled and cut into ½ inch pieces
2 large heads of green cabbage, cored and cut into ¾ inch pieces
Directions
In a large heavy-bottom pot, heat olive oil. Add onions and salt and cook over medium heat, stirring occasionally until softened, 6 minutes.
Add garlic, ginger, and turmeric. Cook, stirring, until fragrant and just starting to brown – about 5 minutes.
Add carrots along with ¼ cup of water and cook over medium heat, stirring, until carrots start to soften – about 7 minutes.
Stir in cabbage in large handfuls, letting each batch wilt slightly before adding more. When all cabbage has been added, cover and cook over low heat, stirring occasionally, until cabbage is tender. This will take anywhere from 20-40 minutes, depending on the type of pot and how soft you want the cabbage.
Allow to cool briefly and serve.
Enjoy!
Image sourced from allrecipes.com