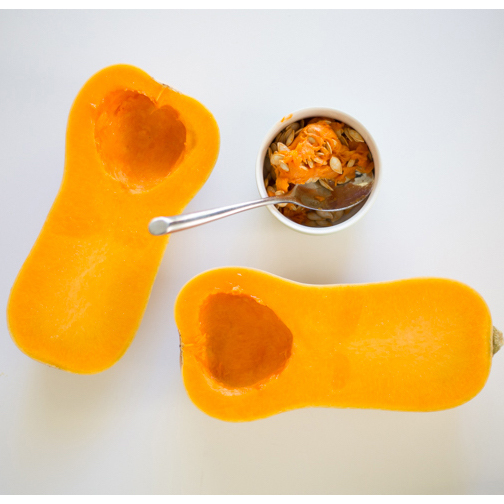 Ingredients (Serves 6)
1 tablespoon oil (for sautéing vegetables)
2 garlic cloves, minced
1 bell pepper, chopped
1 cup onion, chopped
1 tablespoon balsamic vinegar (to deglaze pan)
4 cups chopped butternut squash
1 tablespoon chili powder
¼ teaspoon cayenne pepper
1 teaspoon ground cumin
¼ teaspoon ground cinnamon
3 cups soaked black beans
3 cups vegetable stock
1 28-ounce can diced tomatoes with juice
Optional: shredded cheese, plain yogurt, baked tortilla strips, green onion for garnis
Preparation
*This step optional but enhances overall flavor*: heat 1 tablespoon oil in medium saucepan over medium heat. Add onion and cook 5 minutes, until tender. Stir in garlic and bell pepper. Cook 3 minutes, until pepper is soft. Stir in balsamic vinegar to deglaze pan, scraping brown bits off bottom of pan.
 
Add the cooked vegetable and vinegar mixture to slow cooker along with butternut squash, spices, beans, broth, and tomatoes with juice.
 
Turn to high heat and cook 5-6 hours until squash is soft and chili is thick.
*If skipping first step above*
Simply add all ingredients (minus the oil and vinegar) into slow cooker and cook on high 5-6 hours. Garnish with green onion, cheese, tortilla strips, and/or yogurt.
Note: you may substitute kidney beans, white beans, or chickpeas in place of the black beans. Rinsed and drained canned beans can be used in place of soaked dry beans.

To soak beans: place dry beans in container covered in room temperature water for at least 8 hours. Water should be at least 2 inches above beans. Drain water when finished.