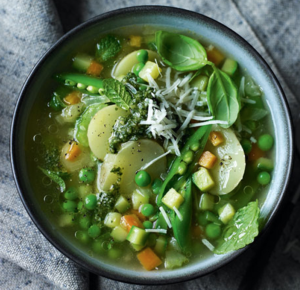 This recipe was pulled from An Apple a Day Nutrition for Life, a blog that focuses on nutritious and filling meals. 
Sofrito 
¼ cup olive oil
2 medium onions, finely chopped
3 medium leeks, white and pale-green parts only, finely chopped
3 celery stalks, finely chopped
Kosher salt
Soup
1 tablespoon olive oil
4 sprigs thyme
1 bay leaf
4 cups low-sodium chicken stock or water
12-14 asparagus spears chopped 
½ bunch small Tuscan kale, ribs and stems removed, leaves torn
1 14.5-ounce can cannellini (white kidney) beans, rinsed
1 cup shelled fresh peas (from about 1 pound pods) or frozen peas, thawed Kosher salt, freshly ground pepper
In a large pan heat 1/4 cup of olive oil on high until simmering then add- onions, leeks & celery.

Reduce heat to medium high and stirring often, continue to cook veggies for 6 more minutes. Turn off heat. Season with salt. set aside to cool.

In a large soup pot heat 1 tablespoon of olive oil on medium high heat and add 1/2 cup of sofritto mixture, thyme and bay leaf, stirring often and cooking for 2 minutes till fragrant. Add stock and bring to a boil. Reduce heat to simmer (medium low) and add asparagus; cook for 4 minutes.

Add kale, peas and beans and cook for 3 more minutes. Season with salt and pepper to taste.