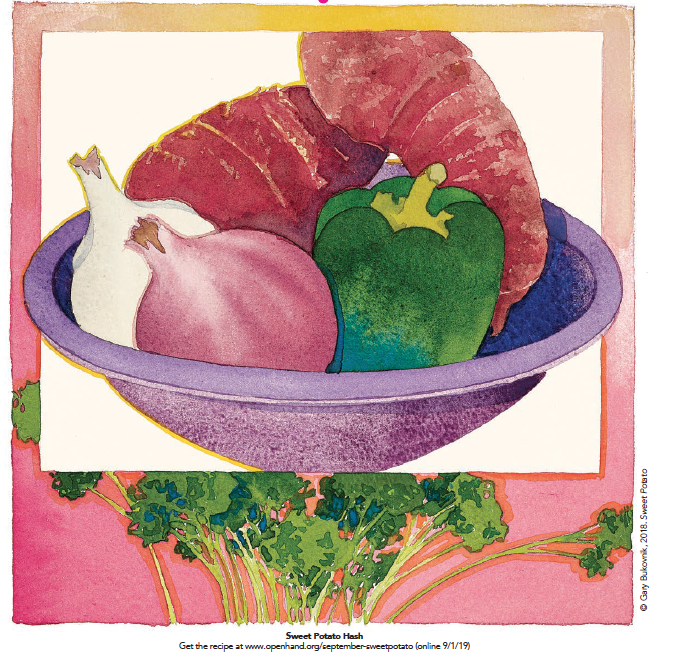 September is Hunger Action Month! Help us bring nutritious, life-saving meals to the critically ill in our community by donating to us this month.
Sweet Potato Hash
Yield: 6 servings @ 4 oz. each
Ingredients:
1.5 lbs Sweet Potatoes, peeled, ½" diced
4 tbsp Oil
5 oz Red Onions, ½"diced
1 Garlic Clove, smashed
6 oz Red Bell Peppers, ½" diced
1 tbsp Spice Mix (½ tsp each Dried Basil, Garlic Powder, Dried Thyme, Dried Oregano, Ground Coriander)
1 oz Scallions, bias cut
1 tbsp Parsley chopped
Instructions:
A few hours before, toss the diced sweet potatoes in a bowl with 2 tbsp oil. Add spice mix and spread on a baking tray and roast in a 350*F oven slowly until tender to the touch.
Allow to chill when roasted and reserve for later.
In a med. sauté pan, heat remaining oil and add red onions and garlic clove.
Cook over medium heat for a few minutes until onions are translucent.
Add peppers and roasted potatoes and cook for a few minutes, stirring occasionally. Add remaining spice mix, scallions, and parsley.
Toss all together and remove from heat.
This Sweet potato hash goes great with scrambled eggs or Turkey sausage on our breakfast menu.
This breakfast item provides:
174 kcal Calories
21.6gm Carbs
1.9 gm Protein
9.2 gm Fat
52mg Sodium
41 mg Calcium