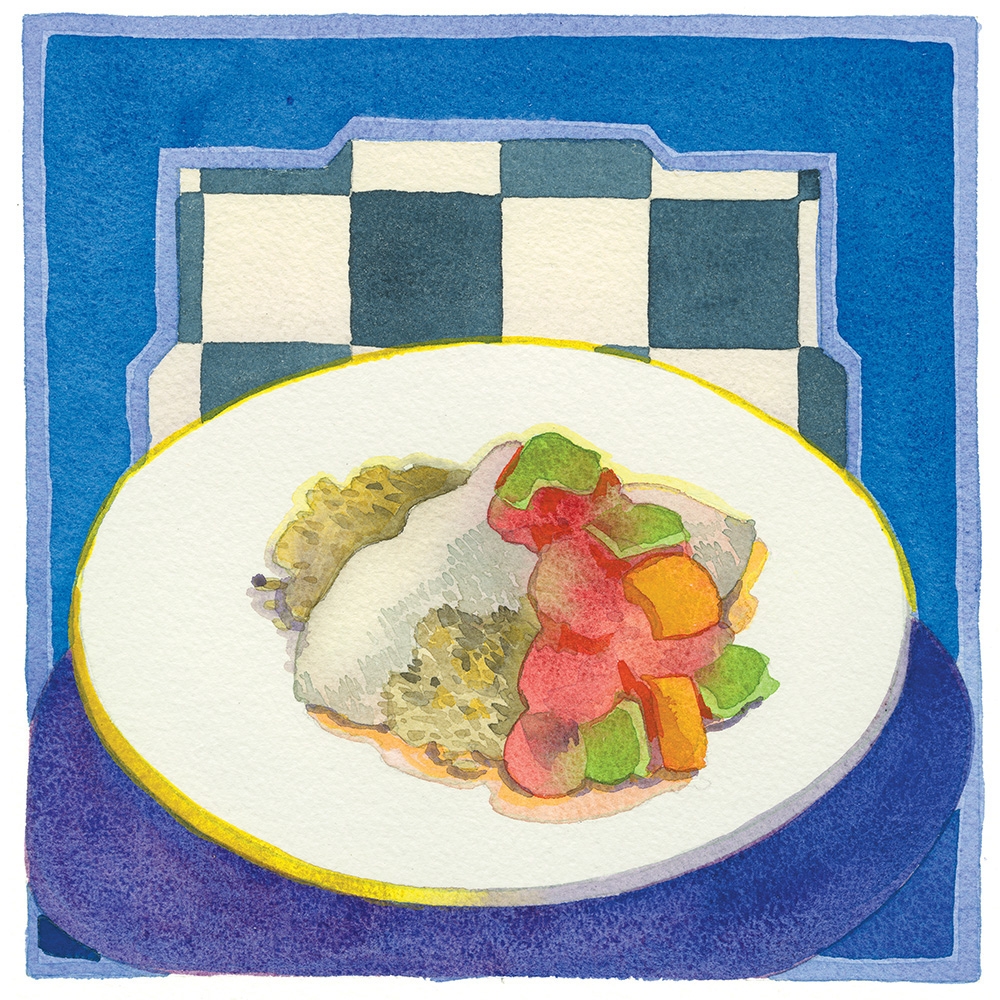 Roast Tilapia with Sweet and Sour Sauce
Ingredients
1 Tbsp. Oil, canola
12 oz. Red Onions, ¼" diced
8 oz. Green Peppers, ½" diced
2 garlic cloves, fine diced
½ oz. Fresh ginger Root, fine diced
10 oz.  Diced tomatoes, canned w/ juices
3 Tbsp.  Rice Wine Vinegar
2 ½" Tsp. Lite Soy Sauce
2 Tbsp. Orange Juice
8 oz. Ketchup
8 oz. Pineapple chunks, cut into ¼" pieces
½ cup water
1 Tbsp. corn Starch
8 Fillets, Tilapia
2 Tbsp. Salt & Pepper Mix
2 lb. Broccoli florets
1 tsp. oil
1 qt. Steamed Brown Rice 
Directions
In a Medium sauce pot, heat oil. 
Add onions and   slowly sauté for 5 minutes.
Add green peppers and garlic and ginger. Slowly sweat with onions for a few more minutes. 
Add diced tomatoes, vinegar, soy sauce, OJ and ketchup.
Stir well to mix sauce and allow to simmer for 5 minutes on low heat.
Mix corn starch with ½ cup water and add to sauce to thicken.
Simmer for 2 minutes and remove from heat.
Spread tilapia filets onto a greased sheet tray and season with salt and pepper mix.
Put tray into pre heated oven at 350* and roast for about 10 minutes or till fish is cooked through and turns opaque.
We serve this tilapia dish   here at Project Open hand with Steamed Brown Rice or Sesame Scallion Rice and Roasted Broccoli
Toss the Broccoli in oil and season with a pinch of salt and pepper mix. Spread onto a greased sheet tray and roast for about 8 minutes.
The roasted Broccoli should smell great and still be crunchy to the bite.
For service, spoon 4 oz. steamed rice into center of place and add 4oz. of Broccoli.
Place roasted tilapia over the rice and broccoli in the center of the dish, and spoon sweet & sour sauce over fish and   around edges of plate.
Roasted Tilapia – nutrient content
Calories – 158 Kcal      Protein - 17.3 gm        Chol – 38 mg  
Fat – 10 gm                 Sodium – 37 mg          Calcium – 9 mg
Sweet & Sour Sauce - Nutrient content.
Calories – 96 Kcal        Protein – 1.6 gm         Chol 0 mg
Fat – 0.8 gm                Sodium - 344 mg        calcium – 35 mg