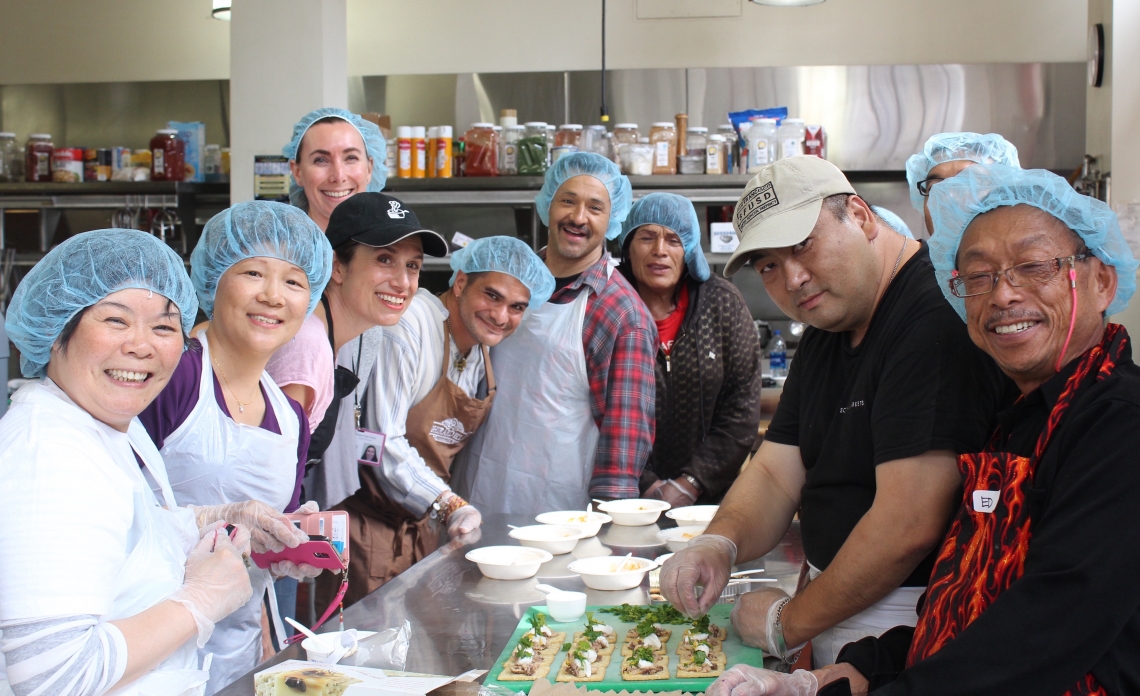 An active member of the California Academy of Nutrition and Dietetics, Max Schroder recently received a  $1,000 Community Nutrition grant and immediately thought of Project Open Hand as the perfect match for this nutrition-focused funding.
Her idea? A crockpot cooking class!
Max spent last week, alongside our Project Open Hand staff, in intimate cooking sessions with Project Open Hand clients right here in the kitchen at 730 Polk Street. The three-day class (designed by Max) was focused around healthy benefits of eating fiber from grains and vegetables, all while using the slow-cooker. The recipes were practical and easy to make, without sacrificing health benefits.
"I was a little nervous about organizing the class around beans and grains because I didn't know how well-received the recipes would be. The participants were so open and enthusiastic about the dishes we made together, that my fears were completely dissipated an hour into the first class. I also loved how everyone had something to contribute — suggesting recipe modifications, dazzling us with knife skills, or keeping us laughing throughout the whole class."
Kristi Friesen, one of Project Open Hand's registered dietitians, recruited 15 clients to cook together, talk about nutrition, and sample the creations. At the end of the class series, each participant received a cooking kit to take home, complete with a slow cooker, knife, cutting mat, olive oil, spices and more. 
Within the three days, the group managed to cover breakfast, lunch, and dinner recipes: 
Day 1: Breakfast ideas, including brown rice bowl with chopped egg
Day 2: Lunch ideas, including barley salad with green beans and chickpeas in a citrus vinaigrette 
Day 3: Dinner ideas, including Italian white bean stew with greens and sausage

 
Gloria, Project Open Hand's nutrition assistant, also helped with the class and commented, "The small group was ideal for personalized teaching. The hands on experience in the kitchen —handling a knife, working with ingredients, receiving clear directions and explanations, and especially, the social component of connecting with people was a major factor in adding value to the class. One client said, "I was in a funk all week and coming here got me out of it.'"
Max continues Gloria's thought by adding, "By the end of the first day, I knew this class was more than nutrition. It was about community and generosity. I have learned so much in the process as well!"
Project Open Hand's registered dietitian and Director of Nutrition Services, Kim Madsen, was equally as pleased with the outcome of the class. 
"This engagement with cooking, food and nutrition education boosts the effect of what we do with our medically tailored meals and groceries. It provides a sense of community and support that makes a real difference in the outlook of those dealing with chronic illnesses. It is a necessary ingredient in the services we provide to our clients."