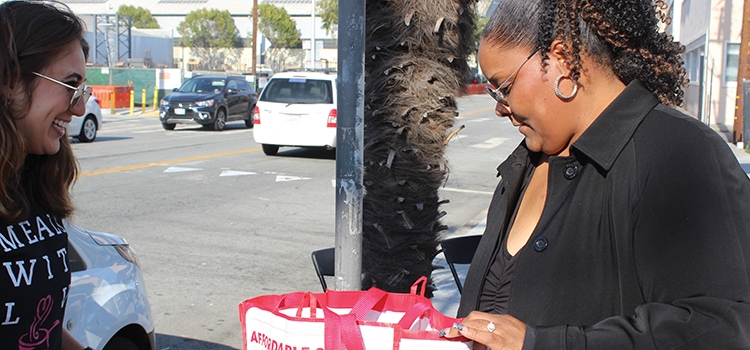 It is a warm and sunny Tuesday afternoon in San Francisco's Mission District and Upendo is ready to fill her grocery bag with the produce on the display table in front of the Project Open Hand Mobile Grocery Van.
She holds the day's shopping list in her hand and checks off the foods she wants to bring home including grain, dairy, and proteins. She gives the list and bag to a Project Open Hand staffer, who returns a few minutes later with a bag full of groceries that will last a week.
"I look forward to every Tuesday because it's always something fresh. Even though I can't afford it, I know there will be fresh stuff in my house for my family. That alone makes you feel better, even if you're not feeling good," Upendo said.
Seven years ago, there was no 'feeling good' because that was when Upendo received life-changing news from her doctors — she was diabetic.
Upendo, who grew up in San Francisco's historic Fillmore District, began treatment with diabetes medication.
But over time she noticed that her condition wasn't improving the way she thought it would. Her A1-C numbers were still high and depression began to take its hold.
"I was trying my best to do it myself, but it wasn't working," Upendo said. "The depression would take my appetite. Some days I would need to eat, and my doctors were like, 'you have to eat something.'"
A concerned family friend recommended that she look into Project Open Hand.
Upendo signed up a little over a year ago. With a referral from a family care physician, she started to shop at the POH Grocery Center on Polk Street, SF. But the commute across town proved to be a burden, and traveling alone was worrisome.
Then staff told her about the mobile grocery van.
The Project Open Hand Mobile Grocery Van offers convenience and accessibility for clients who are unable to travel far distances. The van currently has stops in the Mission District and Bayview.
When Upendo was able to shop for nutritious groceries and pick up meals closer to home, her health improved measurably.
"A lot of things changed. Just me feeling better, the stomachaches and headaches went away because I was finally eating balanced and healthy," she said. "My weight and my A1-C numbers went down."
She was so ecstatic about her health improvements that she even told Outreach Coordinator Isabel Eskin Shapson, who manages the Mobile Grocery Van, during a visit.
"She came up to the van and she had this big smile on her face and she was like, 'I just came from the doctor, and they are so happy with my weight – it's going down. My blood pressure is looking good.' She just started rattling off these things her doctor was really happy with, and she attributed it to the services we offer," Shapson said.
When Upendo first became a Wellness client, she received the medically-tailored meals because it was easier to prepare in the microwave. Soon she started to incorporate fresh produce and proteins. Her favorite Project Open Hand grocery item is the tilapia.
"I would encourage (a person with a critical illness) to see what it has done for me! It has made me feel better and I am able to get around better and not feeling so sick in the stomach and aching all the time," Upendo said.
Seven years ago, Upendo received life-changing news that she was diabetic. But with a change in diet and a new appreciation for healthy eating, she is changing her physical health and mental wellbeing.
That's 'feeling good.'
The Project Open Hand Mobile Grocery Van brings fresh produce, groceries, and life-saving meals directly to the communities where critically ill clients live in San Francisco and Oakland.
To help us continue to bring this life-changing service to our clients, please donate at openhand.org/donate.