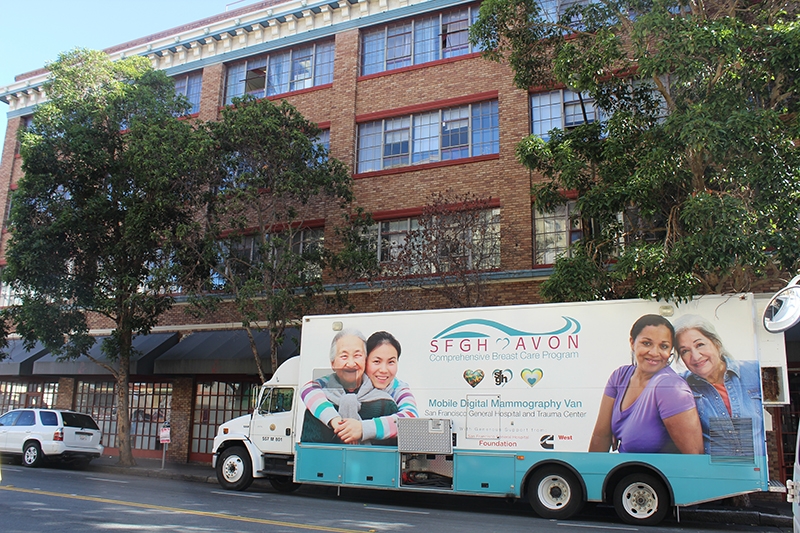 San Francisco-based writer, Mary Ladd, has been living with breast cancer since September of 2013. 
Excitement was in the air as client-survivors, locals and staff saw something big and unusual parked in front of 730 Polk Street: the Mammovan. The Mammovan reminded me of the giant bookmobiles that grace our city streets, and both the bookmobiles and the Mammovan are meant to be resources for as many folks as possible. The Mammovan was complete with helpful pamphlets, and its interior was set up as a place to get an actual mammogram, which depending on who you ask, should happen for women beginning at age 40. The Mammovan goes out two to three times a week to 12 clinics in San Francisco and also has clinical services, health education and follow-up care available in Spanish, Cantonese, and Mandarin. 
Over a three-hour lunchtime stretch on Polk Street, anyone could learn about early detection of cancer, no appointment needed. I saw Project Open Hand clients leaving the building with their groceries, who would happily stop by the event to sip healthy (and tasty) fruit water, pick up a pink ribbon, and enter to win a raffle prize. Guests would also stop and pick up three life like displays of breasts that serve as a reminder for people to know their bodies, and used to demonstrate how exactly to check yourself. This demo was one of the biggest draws for me personally, as a self-exam is how I first detected a pebble-sized lump in my left breast in late 2013. I found it comforting to know that this moveable place for mammograms has been a community resource since 2005, and over 1600 patients are projected to receive Mammovan services in 2016. 
While speaking with Mammovan staffers Mary McGinty and Fabiola Vega, I realize it is human to initially have doubt when coming across a lump or abnormality, just as I did. But if I had been in the Mammovan when I first felt the lump, maybe I wouldn't have waited weeks to get a follow up appointment and diagnostic tests that would eventually lead to my diagnosis. 
The event was the brainchild of Project Open Hand's Serena Ngo, MSW, Manager of Wellness Programs, and it included a helpful sugar shock table with baggies of sugar to give a visual OMG message of how much sugar is in soda and even Vitamin Water (who knew?). If a potential client needed primary medical care to set up a mammogram, the medical assistants from API Wellness were on hand to help with enrollment and paperwork. One of my fellow Bay Area Young Survivors, Helen Chin, was helping out a group called Can Can that provided early detection and self-exam information including more DIY demo breast checks. 
The biggest takeaway from the event? Know your body, so you can take action if something feels different. If you do think something has changed in your body, there are so many folks on Polk Street ready to help you. 
Mary Ladd is a former Shanti client & the author of The Wig Report, a hilarious insider's gift book on navigating oozing infections, constipation, hopsitals, chemo, genetic counseling, surgeries (including the full removal of breasts & ovaries), letters to Angelina Jolie, blood tests, and a major doctor crush.