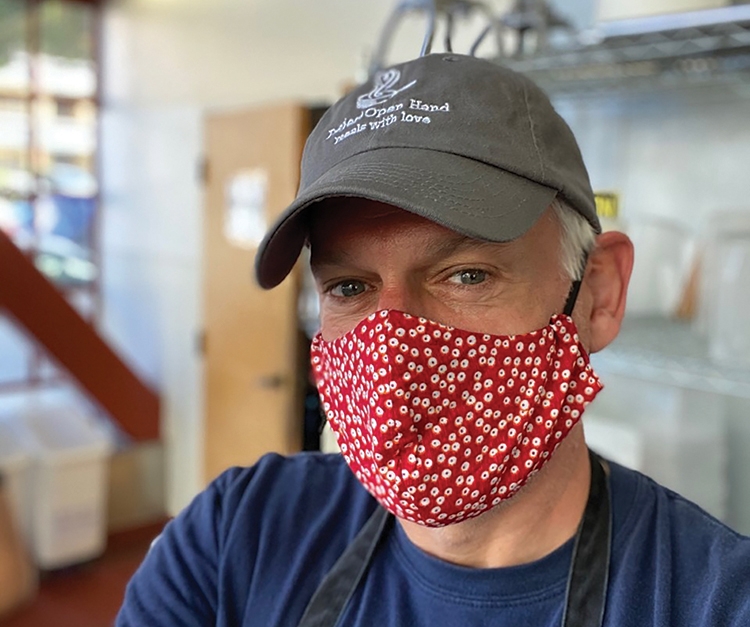 Joe DeJulio's fondest memories begin in a kitchen as a youth in Upstate New York.  
"I was always in the kitchen with my grandmother when I was growing up," Joe said. "I would watch her prepare meals and that always made me happy...meals have always been about bringing people together for me."  
Years have passed since Grandma Josephine shared her kitchen with Joe, but the feeling of creating meals with love continued for Joe as a longtime volunteer and advocate of Project Open Hand.  
Joe moved to the Bay Area in 1993. He started volunteering at Project Open Hand in 1996 when his former employer, the GAP, encouraged their employees to volunteer at community organizations. He picked Project Open Hand because he witnessed the devastating effects of the HIV/AIDS epidemic on the East Coast and the Bay Area.  
"The GAP gave us a list of all these places to volunteer, and it only took one second to know that Project Open Hand was going to be the place for me," Joe said.  
Joe first began delivering meals from POH's original location on 17th Street to the Marina District and he did this for two years. But when a new job opportunity required more travel, he stopped delivering meals and was only able to volunteer sporadically.  
Then in October 2008, a life-changing event made him reevaluate his outlook on helping others. The woman who showed him the importance of how a simple meal can bring people together, his Grandma Josephine, passed away.  
"I started to think about my own religious feelings. You're supposed to help your brother and sister. My grandma had done this for people without having been told by anybody," Joe said.  
Joe came back to Project Open Hand and volunteered almost every Sunday morning in the kitchen, cutting vegetables and prepping ingredients.  
With his professional background in operations, he arrived early to set up volunteer stations and he started the famed whiteboard, listing the day's tasks to be completed by volunteers.  
Joe received an award from the Gap Foundation for his high number of volunteer hours and he also won the national award for volunteering from AvalonBay  Communities. Both companies also made financial donations to Joe's charity of choice – you guessed it: Project Open Hand.  
Joe's enthusiasm and dedication to providing nutritious meals to the community never waned from his early days of delivering meals from the 17th street kitchen to volunteering during the COVID-19 pandemic.  
COVID-19 brought about challenges for Joe — shifts were longer and the limited amount of volunteers in the kitchen due to social distancing guidelines meant he had to work harder. But he continued to come in every Sunday, and he and the other volunteers figured out how to adjust to the situation.  
"I never felt more committed than in 2020 with COVID. I can say I saw this seriousness with my fellow volunteers. We made it a personal challenge to be the best that we could be.  
"I did this as long as I can, and I did it as often as I could," Joe said.  
Joe's volunteer days at Project Open Hand came to an end this summer when he moved to Mexico to start a new chapter in his life. Although he's now a country away from the 730 Polk Street kitchen, he'll always remember the lives he impacted by doing good work.  
"I see pride when my dad tells his friends that he's proud of me for doing this all the time. It makes my family happy and proud."  
Somewhere, Joe has also made his Grandma Josephine happy too.