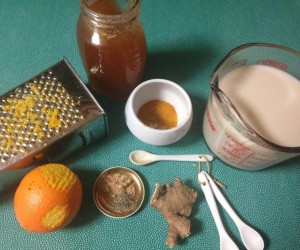 Try this tasty, spiced beverage – an original recipe from Maggie Gori, Communications Chair for our Young Professionals Council.
This is a delicious drink using flavorful spices that are currently being researched for their anti-cancer and antioxidant properties. Almond milk is a great substitute for milk and can be a good source of calcium and Vitamin D in fortified brands. All ingredients may be found at your local grocery store
Ingredients
2 cups of unsweetened almond milk
2 teaspoons ground turmeric
2 teaspoons local honey
2 teaspoons coconut oil
1/8 teaspoon black pepper
½ teaspoon ceylon cinnamon
Optional Additions
¼ teaspoon gelatinized maca
¼ teaspoon grated ginger
Pinch of orange zest
Preparation
In a small saucepan at medium to medium-high heat, bring all ingredients (if using, add Ginger and Orange Zest here) except Turmeric and Maca to a simmer for 3 minutes, stirring until ingredients are consistent throughout
Slowly add Turmeric, stirring until fully dissolved, about 1 minute
Reduce heat to medium-low, add Maca, and stir for 1-2 minutes (skip this step if not using Maca)
Strain into a mug and enjoy!