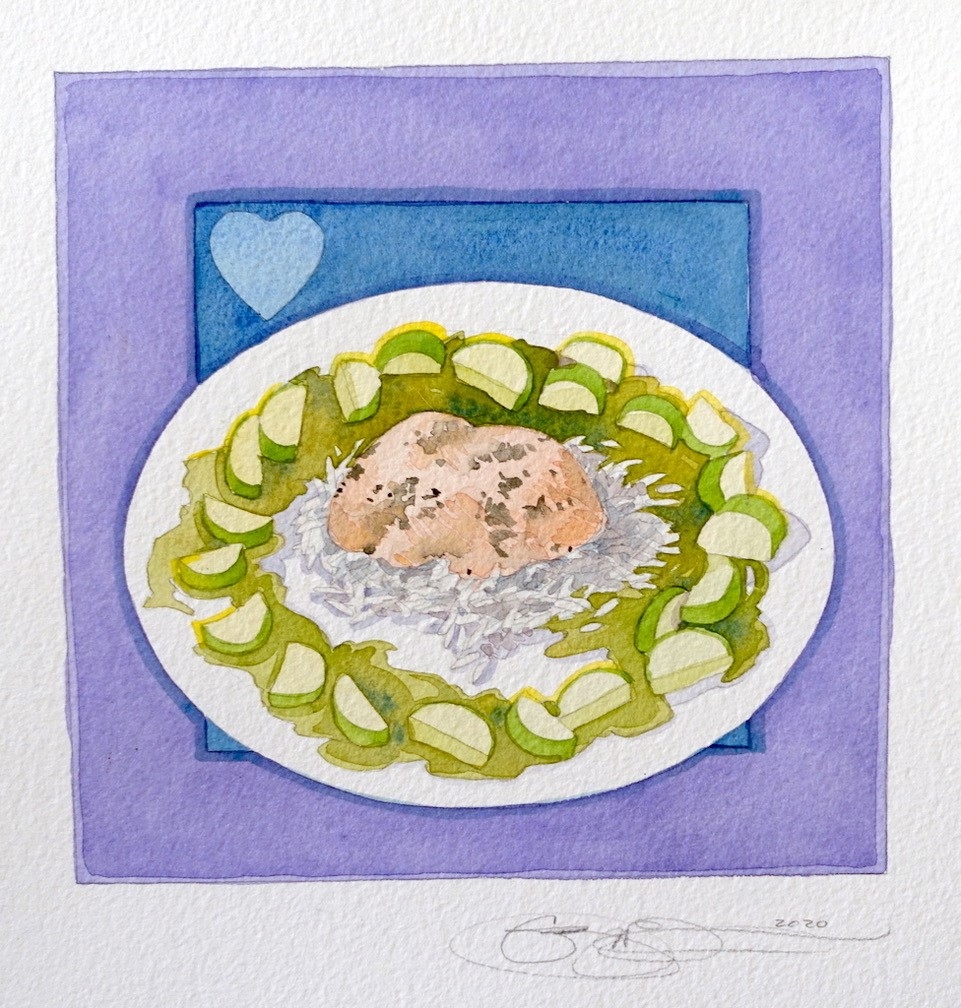 Roasted chicken Breast W/ Parsley Sauce
Herbed White Rice & Zucchini
Roasted Chicken Breast
 8 each chicken Breast (5oz. each raw)
2 Tbsp. oil, canola
1/3 cup Parsley, dried flakes
In medium bowl toss chicken breast in oil and dried parsley.
Spread evenly on a greased baking tray.
Roast in a 350*F hot oven and cook for 15 to 20 minutes or until the internal temperature reaches a minimum of 180*F. Chicken breast should be   moist and tender when cut.
Remove and allow to rest.
Calories - 176 kcal              Carbs – 0.4gm         Protein – 25.9gm
Calcium – 22mg                  Fat – 7.1 gm             Sodium – 65mg
White Rice W/Herbs
1Tbsp.  Oil
1oz. Parsley chopped
1oz. cilantro chopped
1Tbsp. oil
2.5 cups Rice, white, long grain
3.5 cups Water, hot
Puree chopped herbs in 1Tbsp. oil for a few minutes and reserve.
Heat 1Tbsp. oil in medium pot. Add rice and heat for about a minute stirring occasionally.
Add water and bring to a boil. Stir to avoid sticking on the bottom.
Reduce heat, cover and gently simmer.
Cook rice until all water is absorbed and grains are tender to the touch.
About 15 to 20 minutes.
Remove from heat and add puree of herbs. Stir into rice to fluff grains.
Cover and let sit for another 10 minutes.
Calories – 168kcal                   Carbs – 31.5gm                       Protein – 2.8gm
Calcium – 15mg                      Fat – 3.0gm                             Sodium – 5mg
Parsley Sauce
1-cup water
3 oz. Spinach, Frozen-thawed, chopped
1-cup oil, canola
3 cups Parsley chopped
Pour oil and water in a blender cup.
Add chopped spinach and chopped parsley.
 Puree mixture until smooth.
 Serve at room temperature or heat slowly for a few minutes to get hot.
 Bright color may diminish as you heat sauce.  Do not   boil.
Calories – 236 kcal                  Carbs – 1.7gm             Protein -0.9gm
Calcium – 39mg                      Fat – 25.8gm               Sodium – 20mg
Here at Project Open Hand we serve this dish with an 8oz. side of roasted Zucchini Squash.  Cut on a bias, tossed lightly in oil and roasted for a few minutes.
To serve – heap 4 oz. herb rice into the center of plate.
Spread 8oz roasted zucchini around border of plate. Place 1 breast of chicken on top of each portion of rice.
Drizzle parsley sauce around border of plate over roasted veg.