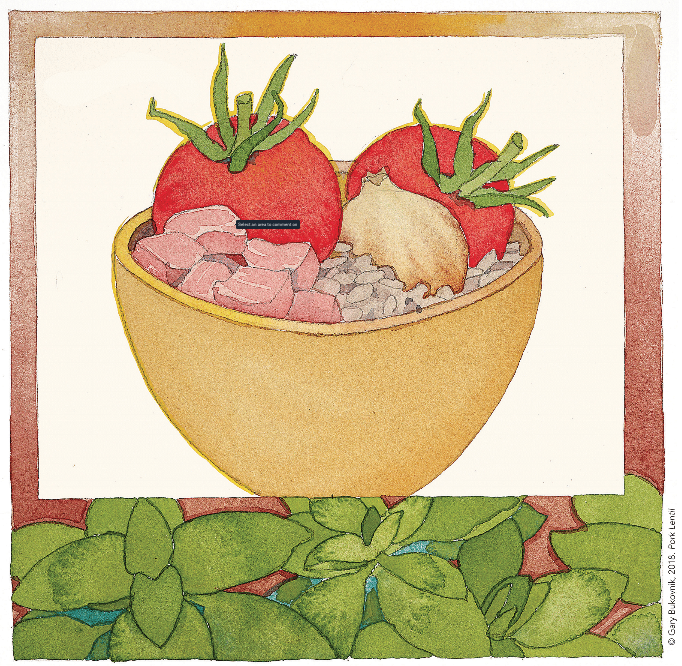 Serves 6-8
2 Tbsp. oil
1 ½ Lbs diced Pork Butt
2ozs cooked, chopped, Smoked Bacon
4oz - ½ "diced onion
4oz – ½" diced carrots
4oz – ½" diced celery
1 garlic clove – chopped
4 cups water
1 bay leaf
2 oz diced tomato in juices
4 button mushrooms – thin sliced
1 cup –cooked-drained, green or brown lentils
1Tbsp salt and pepper mixed
1 Tbsp. red wine vinegar
2oz chopped parsley
In a medium heavy pot, heat oil until hot and sear diced Pork. Stirring occasionally, allow any natural juices to evaporate.
Add onion, carrots, celery, garlic and bacon pieces.
 Sweat with diced pork for about 5 minutes, stirring occasionally. Add water, bay leaf and diced tomatoes in juices. Cover and bring to a boil.
 Allow to simmer for about 30 minutes, cooking until pork and vegetables are both tender.
If the water evaporates too quickly add another cup. When meat is tender, stir in mushrooms and cook for about 5 minutes.
Cook until about 1 cup of moisture remains in the pot with pork and vegetables.
Add cooked lentils, salt & pepper, vinegar and chopped parsley.
 Stir all together and taste. Add more seasoning if desired.
 Allow stew to heat through completely for about 2 minutes and remove from fire.
Serve over Brown Rice or Bulgur Pilaf.