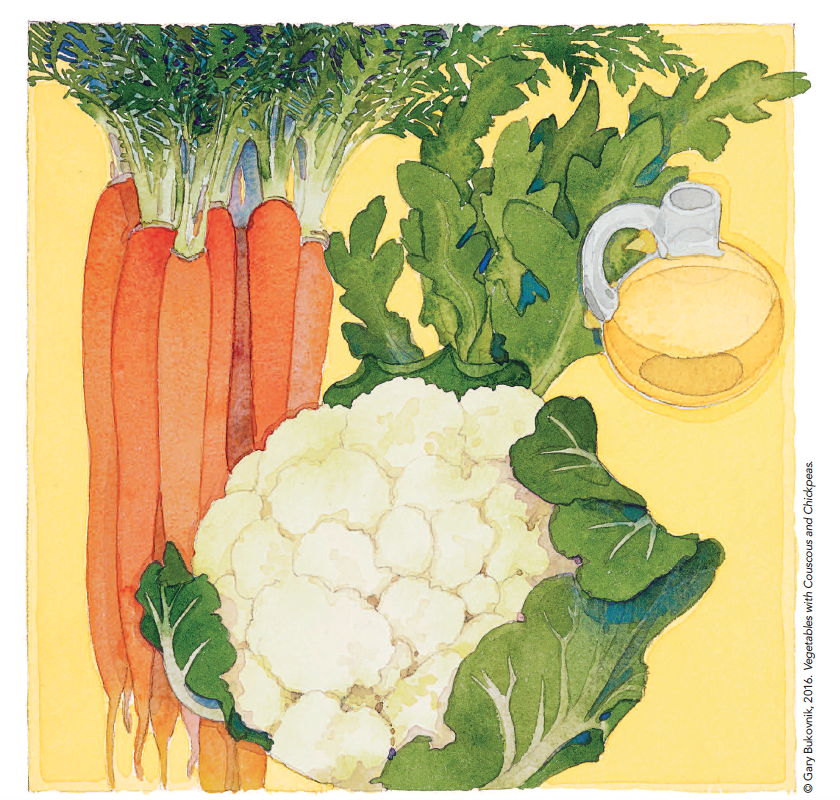 PREP: 30 MINS 
TOTAL TIME: 1 HOUR 
SERVINGS: 4
INGREDIENTS
 1 lb carrots, sliced 3/4 in. thick 
1 head cauliflower (3 lbs), cored and cut into florets
 1  1/2 tsp. ground cumin
3 tbsp. olive oil
Coarse salt and ground pepper
1 c. whole wheat couscous
1 tbsp. lemon zest
1/2 c. fresh lemon juice (from 3 lemons)
1 can (15 oz.) chickpeas, rinsed and drained
6 scallions, thinly sliced
5 oz. baby arugula
DIRECTIONS
 
Preheat oven to 450 degrees. Place carrots and cauliflower on a rimmed baking sheet; toss with cumin and 2 tbsp. oil. Season with salt and pepper. Spread half the vegetables on a second baking sheet. Roast until browned and tender, 25 to 30 minutes, rotating sheets and tossing halfway through. Cool to room temperature.
Meanwhile, in a medium saucepan, bring 1 1/4 c. salted water to a boil. Stir in couscous; cover and remove from heat. Let stand until tender, 5 minutes. Fluff with a fork; set aside to cool, uncovered.
For dressing: In a small bowl, whisk together lemon zest and juice, and remaining tablespoon oil; season with salt and pepper.
In a large bowl, combine roasted vegetables with couscous, chickpeas, and scallions. Place arugula on a serving platter, and drizzle with 1 tablespoon dressing. Add remaining dressing to couscous mixture, and toss; serve over arugula.